Hiring English-Speaking Students no Problem for 5-Star Hotel
When the owner of the 5-star Echoput Hotel & Restaurant, Karel Klosse, hired a Ukranian student from Wittenborg University of Applied Sciences to act as host in his Apeldoorn facility, he had no problem with the fact that his new employee spoke no Dutch.
s00045
Mon, 19/08/2019 - 08:05
English is used more and more as the language of instruction in Dutch universities, a survey by De Volkskrant has found.
Dutch Student Explains Why She Fell in Love with Wittenborg and Now Goes to Every Single Class
The Pre Bachelor Foundation programme allows students to, alongside the language classes, follow foundation modules of the International Bachelors in Business Adminstration (IBA) as preparation for their bachelor programme. The English and Business Preparation Programme, which we also call Prep Course or Foundation Programme for short, is offered in combination with a Bachelor Programme.
Study IELTS English Preparation at Wittenborg University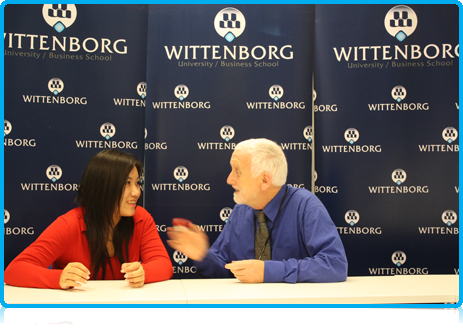 Wittenborg University offers an intensive IELTS English preparation programme for entry into its undergraduate and postgraduate programmes. Students with an IELTS level 5 are offered a full 1 year IELTS English programme.
s00001
Fri, 14/12/2012 - 15:20