EBA is one of 4 Pathways of the bachelor's programme 'Bachelor Business Administration' leading to a BBA degree. See Bachelor's - Undergraduate 4 Pathways for more information.
The EBA pathway is the Bachelor of Business Administration with a focus on Entrepreneurship with three specialisations: Small Business, Digital Marketing, and Finance.
The EBA pathway is aimed at international and local students who aspire to working within an international context in the fields of management and administration, either in business or non-commercial organisations. Entering the programme, you will have a feel for an intercultural and multi-lingual learning environment.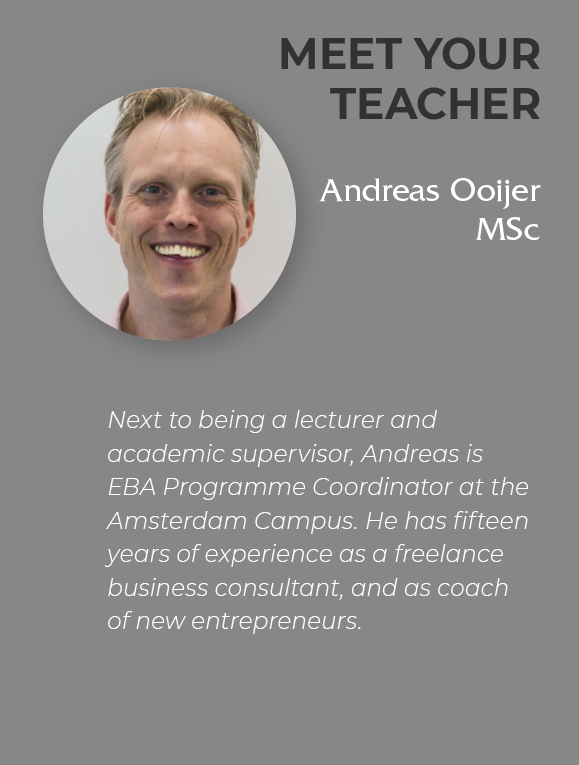 The EBA is designed specifically to provide graduates with an extremely broad and equally balanced range of business, management and organisation knowledge, skills and competencies, whilst allowing you to specialise during the programme in the area of entrepreneurship, business start-ups, and innovation, through the development of business plans and models. The EBA is also aimed at providing you with the knowledge and skills that would enable you to further your studies at a higher level (master's degree) if you wish to.
During your studies in the EBA pathway, you will find that project weeks, business plan execution and finally work placement and graduation will give you the real opportunity to try out your entrepreneurial skills and apply the knowledge of business that you have learnt during the programme.