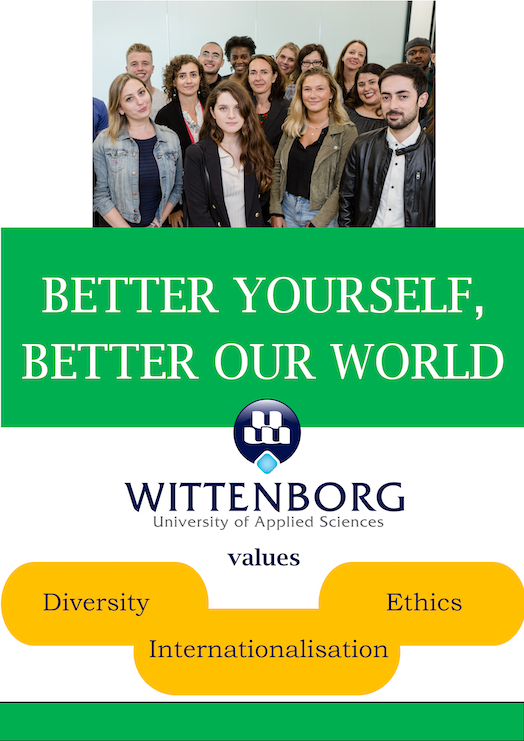 Wittenborg University of Applied Sciences was established in 1987 and is situated in Apeldoorn.
Wittenborg University of Applied Sciences (WUAS) is an entity for higher education under Dutch law and can offer bachelor's degrees and master's degrees and doctorates only in partnership with research universities.
In contrast to research universities, as a University of Applied Sciences, WUAS' core task is to provide degree programmes that lead to work and improved employability. WUAS's graduates are enabled to find new work after graduation or have been enabled to improve in their current careers.
With a focus on key management & business themes, such as entrepreneurship, innovation, sustainability, new technology, Wittenborg University of Applied Sciences is one of the fastest growing independent international university of applied sciences in the Netherlands. With around 1000 students from more than 100 different countries studying on its broad bachelor's and master's programmes in WUAS two main schools, the School of Business and the School of Hospitality & Tourism.
In its 10-year plan, presented in 2013, Wittenborg is aiming at growing to a broad university with a total of 5 schools. The new schools that are under the development are the School of Arts & Technology, School of Health & Social Care, and School of Education. Wittenborg is determined to provide cross-discipline & applied-science education to assure its graduates are more suited for the future job market, within an international context.
Better Yourself, Better Our World
Wittenborg University of Applied Sciences' education model is based on the concept of a uniform quality management system, that oversees and underpins a uniform education structure, with degree programmes having multiple entry points, a standardised block and semester system, a common assessment system, and a common student support system. Within the standardisation local and subject domain 'flavours' are encouraged, in teaching, projects, company visits and guest lectures.
With clearly defined values and mission, Wittenborg University of Applied Sciences offers excellent education in business studies to students from the Netherlands, Europe, and around the world. WUAS students range from school leavers to people with professional experience and previous study qualifications.
Through its developing research centre, focusing on the key themes and the domains within the schools, Wittenborg University of Applied Sciences enables applied research to be embedded throughout its programmes. It is further developing its research profile by offering doctoral studies within joint delivered PhD programmes together with the University of Brighton.
Wittenborg University of Applied Sciences is staffed by international team of academics, professional people dedicated to excellence in higher education focussed on management, business and entrepreneurship. All WUAS' degree programmes are all offered completely in English. In fact, with staff from more than 40 different countries and cultures, English is the lingua franca at Wittenborg University of Applied Sciences!