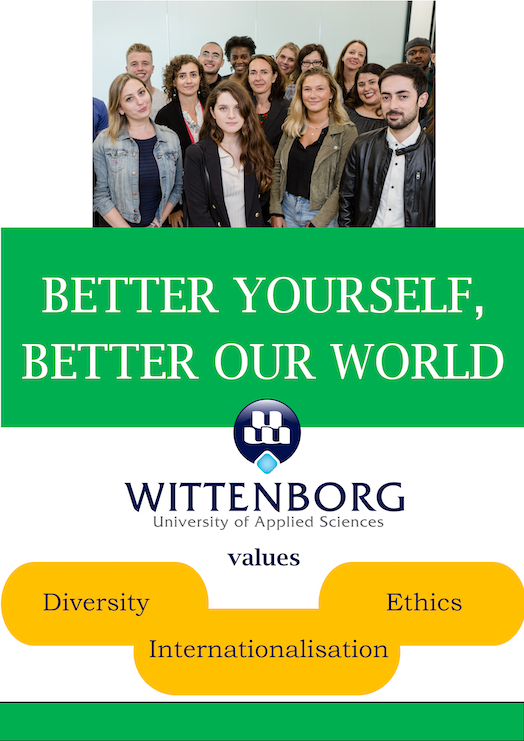 Wittenborg University of Applied Sciences is a dynamic, double accredited business school, with its headquarters in Apeldoorn. Wittenborg was established in 1987. It is one of the few 100% English-speaking higher education institutes in the Netherlands and its 1000+ students and staff represent over 100 nationalities, making it the most international private university of applied sciences, and business school in the Netherlands. The school also has a vibrant study location in Amsterdam, with a focus on Entrepreneurship.
Wittenborg's Mission & Vision
Wittenborg's Vision is to become an internationally recognised university of applied sciences with an international, innovative approach to higher education, creating life-changing opportunities and to advance the development and dissemination of knowledge in partnerships with the (business) community. Wittenborg's motto is '"Better Yourself, Better Our World"
Wittenborg's Mission is contributing to society in Apeldoorn & the region by promoting excellence in teaching and learning of international business and management, as well as by creating the best environment for students and staff where internationalisation, diversity and ethics set the premises for successfully applied, research-informed, global learning.
Wittenborg's Values: Internationalisation, Diversity, and Ethics
Internationalisation, Diversity, and Ethics are Wittenborg's key values and key drivers of its success, Wittenborg sees its role as the education and training of highly qualified, internationally minded, socially responsible and intercultural, critical and independently thinking graduates, who engage in innovative and creative business in companies and organisations around the world, either working for others or in the instigation of business and entrepreneurship. Wittenborg embraces internationalisation as a key value. 
WUAS' outlook is global, and it aims to maintain its independent status whilst being one of the most international and diverse higher education institutions in the Netherlands. The university promotes total equality of students and staff, of cultures, gender, and people with disabilities within the institute. WUAS promotes a working environment that is fair and emphasises respect between and within its student and staff body. Wittenborg embraces diversity as a key value.
Wittenborg's motto expresses the commitment to offer higher education where students and staff understand that ethics plays a central role in their every decision. Guided by well-established ethical and moral standards, such as honesty and integrity, unified we strive for a better tomorrow: Better Yourself - Better Our World. Wittenborg embraces ethics as a key value.
Better Yourself, Better Our World
Wittenborg University of Applied Sciences' education model is based on the concept of a uniform quality management system, that oversees and underpins a uniform education structure, with degree programmes having multiple entry points, a standardised block and semester system, a common assessment system, and a common student support system. Within the standardisation local and subject domain 'flavours' are encouraged, in teaching, projects, company visits and guest lectures.
Bachelor & Master Degrees in Business & Management
Wittenborg offers all its programmes taught in English – including 19 Bachelor of Business Administration specialisations, 9 Master of Business Management programmes (MSc) and 11 Master of Business Administration (MBA) programmes. 
Wittenborg sees as important an interdisciplinary approach to higher education, which is reflected in the cross-disciplinary broad management programmes that allow students to develop their knowledge, skills and competencies through applied research in a manner that is not restrictive to specific subjects, and continues to develop into the only private university of applied sciences offering a broad range of BBA, MBA & MSc programmes across various disciplines, all with a predominant focus on the business and/or management in those domains. 
Wittenborg University of Applied Sciences is staffed by international team of academics, professional people dedicated to excellence in higher education focussed on management, business and entrepreneurship. All WUAS' degree programmes are all offered completely in English. In fact, with staff from more than 40 different countries and cultures, English is the lingua franca at Wittenborg University of Applied Sciences!