Assisting application from start to finish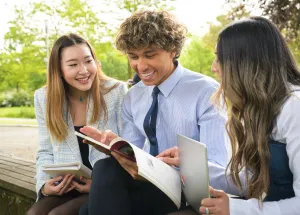 Wittenborg's Admissions Team serves as a cornerstone of support and proficiency, offering an extensive array of experience to guide prospective students through the intricacies of the application process. Our team facilitates the selection of appropriate programs aligned with your academic objectives, while also navigating the intricacies of scholarship opportunities to optimize the affordability of your educational pursuit.
Our proficiency extends beyond programme selection and financial guidance; we possess a comprehensive understanding of the student visa acquisition process, ensuring a seamless integration for our international student body. Furthermore, we play a pivotal role in assisting with campus accommodation arrangements, affirming your residential comfort and convenience throughout your academic tenure.
At Wittenborg, we adopt a comprehensive approach to admissions, a philosophy deeply ingrained in our team's ethos. We are steadfast in our commitment to delivering tailored and efficient communication, ensuring each interaction is meticulously aligned with your specific inquiries and requirements. Our team stands ready to offer support, clarity, and direction throughout each stage of your application process.
From the initial stages of inquiry through to your integration into the Wittenborg community as a student, our admissions division remains at your service, transforming the university application experience into a streamlined and transparent process. We extend a warm welcome, ready to address your queries and aid in the realization of your academic ambitions.
Opt for Wittenborg and engage with an admissions team as committed to your educational journey as you are. Join a community that values care, embraces diversity, and cultivates success. Welcome to Wittenborg University of Applied Sciences—where your academic future is in expert hands.
Always guided to the best programme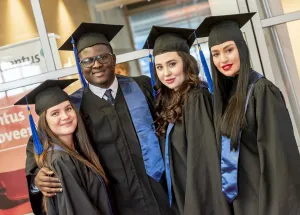 Choosing to apply and enroll at Wittenborg University of Applied Sciences brings with it a plethora of benefits.
Our commitment is to ensure that your application is for a program that precisely suits your needs, and we guarantee to provide comprehensive information and guidance throughout the process. For our international students from outside the EU, we streamline the 'Schengen visa' application process and assist in obtaining residence permits, facilitating a smooth transition from your home country to our campus.
We take a holistic approach in preparing you for your academic journey, offering support and resources from the moment you decide to apply, through to your arrival and beyond.
Selecting the right institution for your higher education is a critical decision. With over 20 years of expertise, the Admissions Office at Wittenborg is uniquely equipped to help you determine if our international university of applied sciences, and the programs we offer, are the right fit for you.
Once you've made the decision to join us, the Admissions Office is here to guide you through the application process, regardless of whether you are a new student or transferring from another institution. We provide comprehensive assistance to both Dutch and international students, whether you are currently residing in the Netherlands or joining us from abroad. Our team is here to help with study exemptions, tuition fees, scholarships, student housing, Schengen visas, insurance, textbooks, and other study materials, ensuring a seamless transition into your academic life at Wittenborg.
In choosing Wittenborg, you are choosing a partner in your educational journey, committed to ensuring your success from the very start. Welcome to Wittenborg University of Applied Sciences – where your future begins.