Student Support at Wittenborg is described both in the specific programme's student guide as well as the student charter, in which expectations are explained from both the institute and the student.
There are 2 specific types of student support: educational and non-educational, and the flowchart below shows how student issues can be dealt with, and at which level: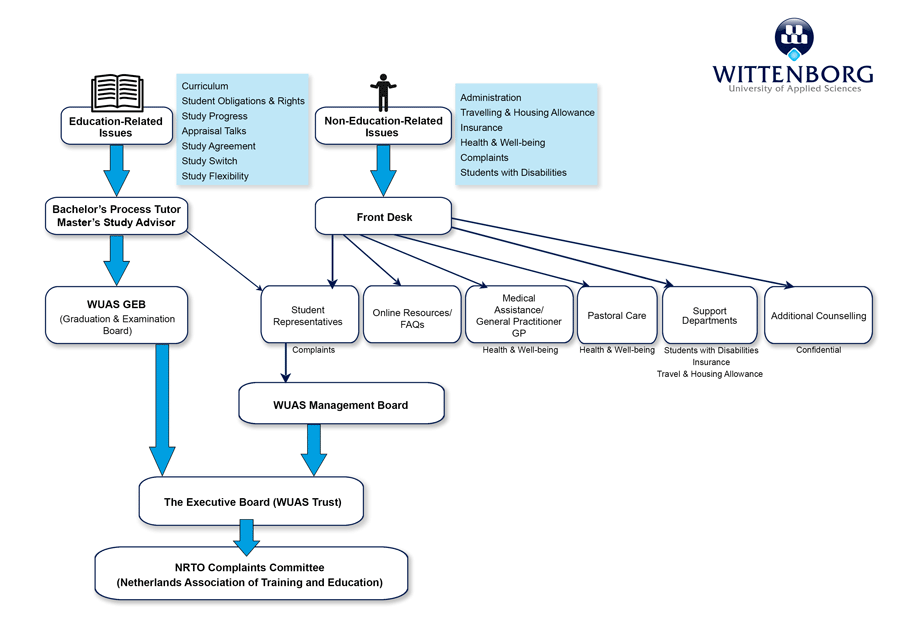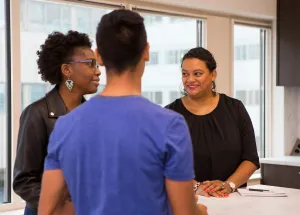 As can be seen from the above chart, education support for issues always goes through a student's process tutor/study advisor. Ideally, the process tutor/study advisor will be able to discuss and solve a student's issues without this developing into a complaint. Process tutors will not deal directly with non-education issues, although a friendly ear is to be expected. Process tutors/study advisors should ask students to go to the Front Desk, or their 'Student Rep' with non-education related issues.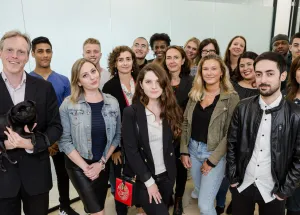 At WUAS process tutors at bachelor level and study advisors at master level are part of a team of supervisors who assist students in understanding their curriculum, their obligations and their rights as a student. They are responsible for keeping track of a student's study progress and carry our appraisal talks that result in updated study agreements. All aspects regarding study can be discussed and a student's process tutor/study advisor must co-ordinate closely with student administration staff and the registrar, regarding progress.
Each student is assigned a process tutor/study advisor who will support them throughout their studies.
The bachelor's process tutor is generally the same for Phases 1 and 2, but may change in Phase 3, due to support requirements for work-placement.
The MBM (MSc) study advisor will generally be the MBM programme coordinator. The MBA study advisor will generally be the MBA programme coordinator, but for part-time students a different study advisor will be allocated.
Overall, the process tutor/study advisor will play a central role in introducing students to life at an institution like Wittenborg, from a study perspective, helping students understand the education guides, module guides, student handbooks and timetables.
The team of tutors will also provide students with general information regarding the facilities at Wittenborg, life in Apeldoorn and Amsterdam, including library facilities, sports facilities, access to organisations and companies, life in the Netherlands, and preparation for 'life after Wittenborg'.
All individual practical issues of administration, including travel, housing, insurance, health matters, etc., should be discussed with relevant student support/administration staff, with the starting point being the Front Desk.