English and Other Language Programmes
Wittenborg English Language Department
Wittenborg provides English language courses to all sorts of students. Courses are standard, or made to measure, and can lead to a number of exams and qualifications such as IELTS (www.ielts.org) or TOEFL, as well as certificates such as the Cambridge First Certificate of English, and the various Pitman English exams.
University University's Preparation and Foundation Programmes
The language school provides the basis for the Wittenborg`s Foundation and Preparation Year programme that assists and places students into academic and professional further and higher education courses of their choice. Please click the following link for further details.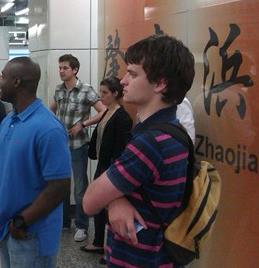 In Apeldoorn
Wittenborg offers a number of made-to-measure, study-aid courses of English in an international environment. All teachers are native English speakers.
Local adult learners are also welcome to joint Spanish, Chinese and of course Dutch language Courses at Wittenborg, for a small financial contribution of 5 euro per lesson.
Call (088) 6672688 for more details.
(left, Wittenborg students on a field trip to Shanghai where they followed Chinese lessons)