Wittenborg is continuously looking for possibilities to support students with finding suitable accommodation in Amsterdam. However, the responsibility for finding a room in Amsterdam ultimately lies with the student. It should be noted that finding student accommodations in Amsterdam is very difficult at the moment due to severe housing shortage. It is, however, possible to opt for student housing in Apeldoorn. The distance between Apeldoorn and our location in Amsterdam is around 1.5 hours by train and costs around 18 euro one way (www.ns.nl).  
Accommodation in Amsterdam costs around 700-1,200 euro per month, depending on the location, size and type. If you seek cheaper accommodation, you can consider the suburbs near Amsterdam, for example, Amstelveen, Almere, Zaandam, Hoofddorp or Haarlem, etc. The Netherlands has an advanced public transport system (train, tram, metro, and bus), which makes it convenient to travel around the area. Wittenborg's Amsterdam campus is only a 7-10 minute walk from the Amsterdam Bijlmer Arena train, metro and bus station.  
Please contact our Amsterdam housing partners below to arrange your accommodation at the earliest possible moment. 
Change  
Change provides innovative and affordable all-inclusive accommodation to students and young professionals. Each apartment comes with a private bathroom, shower and kitchen. All locations are situated within a local community so that amenities are easily accessible for residents. In addition, public transport is always within walking distance from Change locations. Change aims to give its residents a holistic experience of working, living, learning, safety and care. 
Hi-Condo  
HiCondo is located about 10 minutes' walk from the Wittenborg Amsterdam campus. The minimum contract for this accommodation is one year. Please note that HiCondo only offers unfurnished studios so you will need to buy your furniture yourself. However, you can find shops like IKEA close to the accommodation, so you can easily find cheap furniture.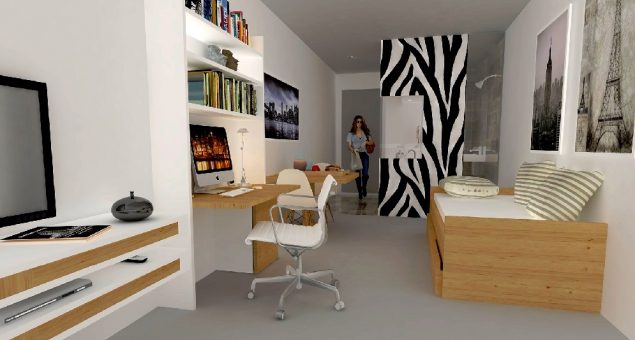 Holland2Stay 
Holland2Stay offers a total rental accommodation experience for students as well as young professionals. Apartments come fully furnished and are available as studios for individuals, or bigger rooms to be shared by couples. All apartments come with a private bathroom and kitchen, with bigger rooms having a living and dining area as well. Contracts made with Holland2Stay can either be for a year or regular contracts subject to renewal. All locations are easily accessible by public transport with amenities such as gyms, restaurants and supermarkets in walking distance.  
Housing Anywhere  
https://housinganywhere.com/s/Amsterdam--Netherlands   
HousingAnywhere is the international housing platform for mobile talents. Through HousingAnywhere you can safely book your new room, offered by verified private landlords and by outgoing students. 
To receive a 20% discount on the subscription fee, a Wittenborg University of Applied Sciences VIP profile and priority access to the listings in Amsterdam, sign up here.
You can find information about finding your new place on the how it works page. Do you need more information or have a specific question? Send an email to vip@housinganywhere.com.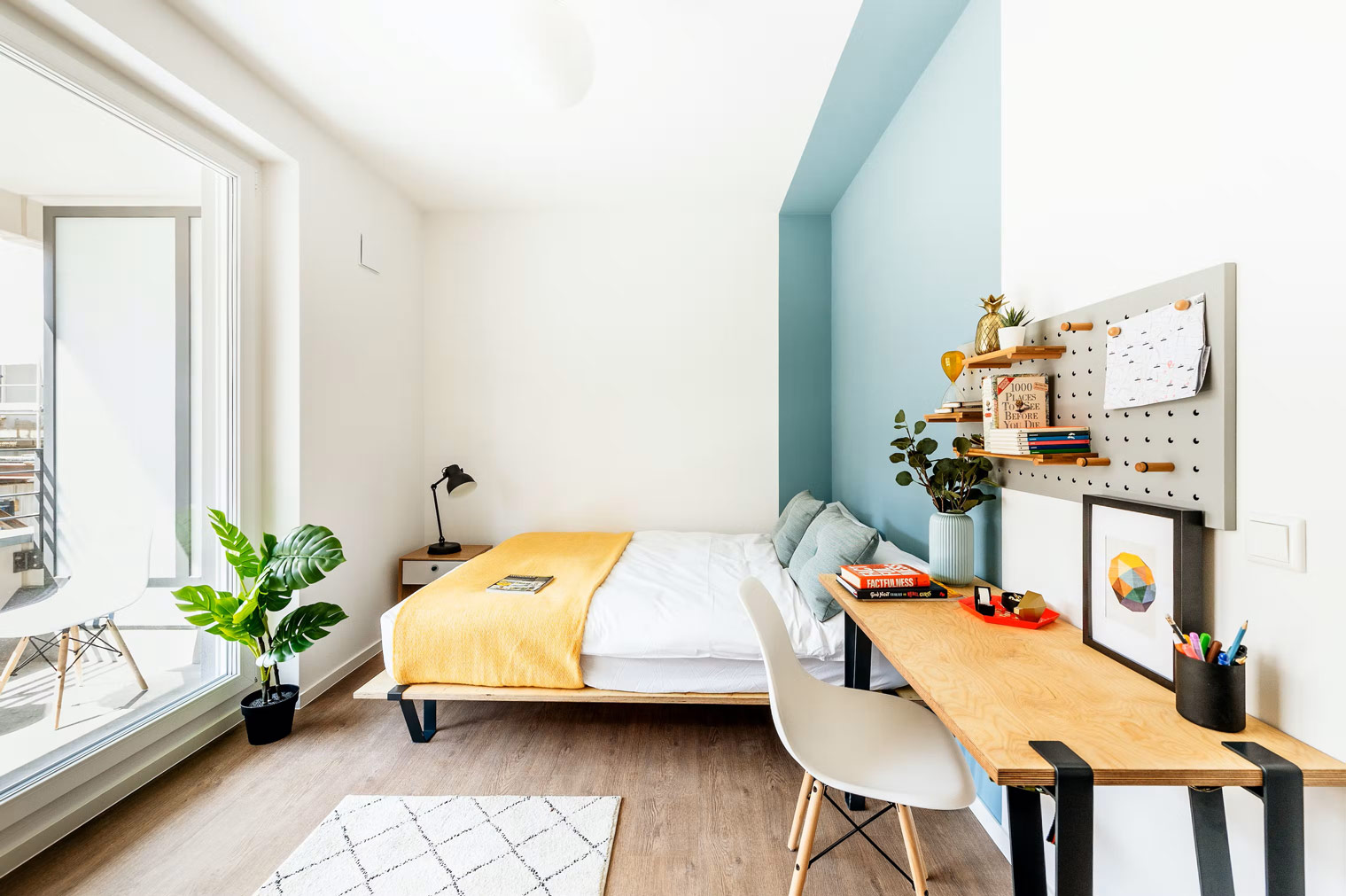 Student Experience  
https://www.studentexperience.nl/ 
At Student Experience Amsterdam Minervahaven, students from all over the world find a temporary home base in fully furnished studios from 25 m2, in a state-of-the-art, full-facility building. Hook up your Playstation in the lounge, focus in the study room and sweat out exam jitters in the gym – you won't be bored. You can rent a studio for a minimum period of three months, starting from 830 euros/month, without deposit and with all services included (location manager 24/7, security, sports, bicycles, study areas, game corner, dining areas, social events, etc.).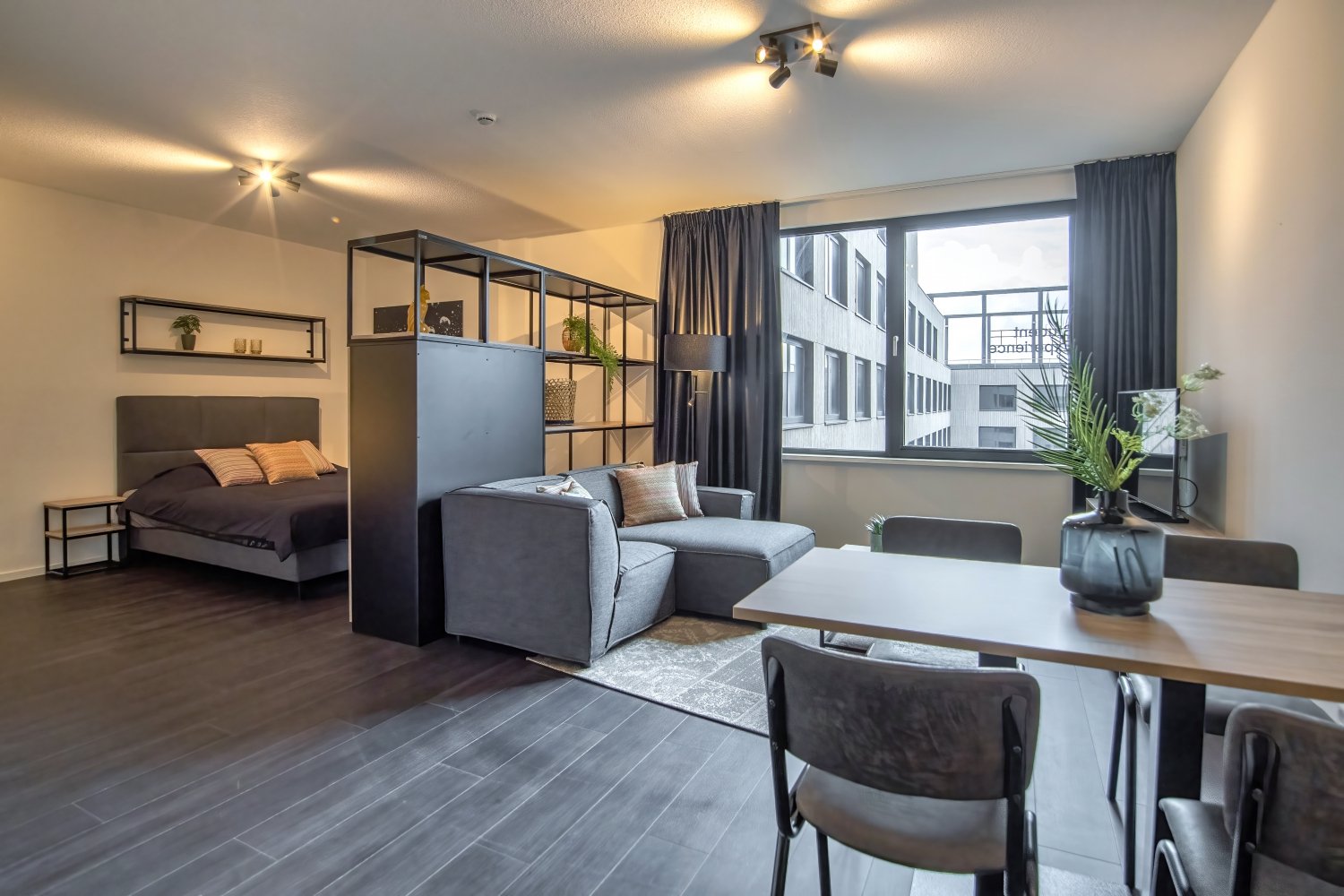 The Social Hub  
https://www.thesocialhub.co/de/cities/amsterdam
The Social Hub is somewhere between a hotel and student accommodation. It caters to students and interns looking for a short stay in Amsterdam. You can book a room for a night, a week or a whole semester. Rooms come with a private bathroom and each floor has a kitchen shared by 12 people. There are also other common facilities, such as a gym, a restaurant and study area. There staff always on-hand to help out where needed. The hotel is located very close to the city centre and just 6 stops from the Amsterdam Bijlmer station.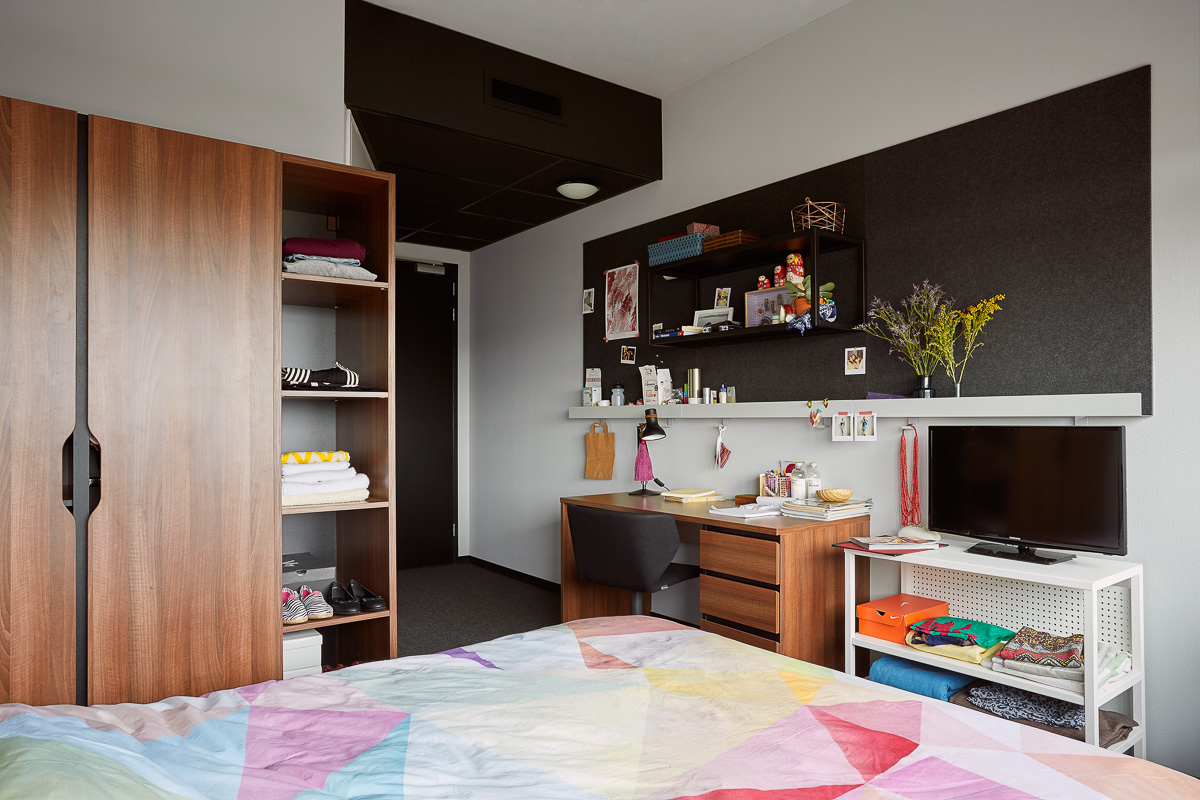 Our Domain  
https://www.thisisourdomain.nl/en/amsterdam-south-east  
Our Domain promotes an eco-friendly lifestyle for its residents. East House features 955 furnished studios for students and young professionals, including extensive facilities and services. All three locations offer lease options of both furnished and unfurnished rooms for either short or extended stay. All apartments are fitted with high-quality finishings, a private bathroom and kitchen.  All locations also provide communal facilities such as gym, flexible work and study spaces, restaurants, laundrette, supermarket, parking, 24-hour security and service desk. 
Hotel Jansen  
Hotel Jansen is a short-stay, all-inclusive hotel in Amsterdam that offers accommodation to students, interns and young professionals for a day, a week or 6 months. Every room has an en-suite bathroom, and each floor has a communal area that serves as both a living room and a self-catering kitchen. This communal area has regular cleaning services and household rules that ensure harmonious living for all residents. 
Other Options
If any of the options above are not suitable for you, you can also try the following accommodation sites to look for other options:   
Generally, administration/agency fees apply when using such agency websites. Please check the information in the rental agreement carefully before signing the contract.   
Once you have arranged your accommodation, please inform Wittenborg accordingly. Your address in the Netherlands is needed to arrange your insurance and other formal registrations.