An agreement between Wittenborg University of Applied Sciences and the New European College (NEC) in Germany means students can now also study part of Wittenborg's curriculum in Munich. Wittenborg provides and delivers 75% of its degree programme curriculum to selected NEC students, who can then complete their final 25% studies and gain a Dutch degree in The Netherlands. This unique programme offers students the opportunity to spend part of their studies in the exciting business hub of The Netherlands, and gain an internationally recognised business degree, whilst also having experienced living, studying and working in Germany.
IMPORTANT NOTICE for students planning to start their studies in Munich:
Wittenborg - New European College
You have chosen to start your studies at Wittenborg's study location in Munich, under an agreement Wittenborg has with its partner New European College (NEC). NEC is providing you with a study in Germany experience and as part of that Wittenborg has agreed to offer 75% of its degree programme curriculum at the NEC location. You are contracted with NEC, who has invoiced you a total fee covering your studies. At the same time, you are also contracted with Wittenborg, who will issue a reduced tuition fee invoice for your Wittenborg studies, according to the fees listed on the Wittenborg Website. This invoice is to you as a student, as part of your acceptance into Wittenborg programmes, however you have mandated NEC to pay this invoice as part of your overall agreement with NEC.
As part of your application, you will have been provided with an acceptance letter and a study agreement. These documents are your formal acceptance into the degree programme in the Netherlands. You will be formally registered as a student in the degree programme, under the Netherlands Act of Higher Education, once you have started the final 25% of your required credits in the degree programme at either the main campus of Wittenborg University of Applied Sciences in Apeldoorn or Wittenborg's campus in Amsterdam.
For full details of registration whilst starting your studies in Munich please see https://www.wittenborg.eu/munich-study-location-registration.htm
Recognition in Germany
Wittenborg is an officially recognised higher education provider in Bavaria, Germany, as listed here:
Tabelle ausserbayerische Hochschulen.pdf
Note: New Business College (NEC) is not entitled to award Wittenborg bachelor of master degrees. These can only be awarded by Wittenborg University of Applied Sciences, under the Act of Higher Education and Research of the Netherlands.
Important Technicalities of Registration as a Wittenborg Student Munich
Due to the technicality of the Dutch higher education system it is not possible for degrees to be NVAO accredited outside of The Netherlands and therefore in Germany, although Wittenborg's German FIBAA accreditation is valid, NVAO accreditation is only valid, in relation to the Act of Higher Education of The Netherlands, for the 25% that students who started in Munich, complete at a Wittenborg campus in The Netherlands.
All Wittenborg students in Munich are registered as contracted students of Wittenborg University of Applied Sciences, except they are not registered as students under the Act of Higher Education and Research in The Netherlands, until they are studying at a Wittenborg campus within the boarders of the Kingdom of The Netherlands. Wittenborg students in Munich have exactly the same rights of service and facilities and the same obligations of Wittenborg University of Applied Sciences as students in the Netherlands, as described in the Education and Examination Guide (EEG).
The curriculum of the programmes offered to Wittenborg students in Munich is exactly the same as that offered in the Netherlands and falls under the Education and Examination Guide (EEG) of Wittenborg University of Applied Sciences, including its Graduation & Examination Board (GEB). The curriculum offered to Wittenborg students in Munich is solely 100% taught and assessed by lecturers directly appointed and employed by Wittenborg University of Applied Sciences. All other services provided to students in Munich are currently provided by Wittenborg's partner, the New European College (NEC).
Transfer to The Netherlands
If the curriculum followed in Munich is followed as described, the European Credits achieved in Munich are valid and accredited EC that will be guaranteed to be transferred into the NVAO programme, under the Act of Higher Education and Research of The Netherlands, as soon as students have started their final 25% of the study at a Wittenborg campus in the Kingdom of The Netherlands.
Wittenborg students who have started their studies in Munich under the above described regulations, and choose to complete their studies in The Netherlands and gain a Dutch accredited degree will be facilitated and supported by Wittenborg's Admissions, Registry and Student Support Team in the same way as all new students to Wittenborg's campuses in Apeldoorn and Amsterdam.
Business Education in Germany's Economic Capital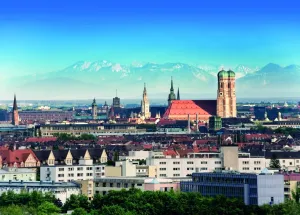 Located in the center of Europe, with thousands of students, a perfect blend of innovative technology, economic growth and cultural diversity, Munich presents itself as the ideal city for international business students.
Home to renowned international companies such as BMW, Siemens, Allianz, Munich RE and FC Bayern München, Munich not only has a reputation for steady growth, but consistently ranks as one of the world's top cities in terms of quality of life and professional competitiveness. Having one of the lowest unemployment rates in Europe, and the lowest in Germany, abundant employment opportunities allow you to establish and continue your path in business in the economic heart of Bavaria. With the support of our administration, we help you find the right place for your strengths, talents & passion to build your future.
Today, modern Munich is a cosmopolitan economic hub known not only for the famous Oktoberfest, but for its cleanliness, safety, and unique combination of technology and tradition. As the third largest city in Germany, Munich is rich with political and cultural history, breathtaking architecture, fine art and music. You will find a charming view of the Alps, the sizeable Isar River flowing through city center and a vast number of parks and gardens making Munich one of Germany's most visited and picturesque cities.
Playing host to a wide-variety of trade fairs and exhibitions, and being a short trek away from other European epicenters, such as Milan, Brussels, Zurich, Barcelona and Paris, you are open to explore some of the best sites and attractions Europe has to offer during your studies at New European College in Munich.
What can international students studying in Munich look forward to?
"Munich offers students a fascinating combination of the traditional Bavarian lifestyle, exemplified by the famous Oktoberfest, and a booming high-tech economy with the highest density of stock-noted companies in Germany. In 2018 Monocle Magazine named Munich 'most liveable city' in the world. It is home to global players like BMW, Allianz, Siemens and many more, as well as start-up companies, large corporations and small to medium-size enterprises.  
"Thanks to the booming economy Munich has the lowest unemployment rate among all large German cities. 27% of its inhabitants are foreign nationals and contribute to Munich's open and vibrant culture scene. As regards Munich's parks, one of the world's largest parks is literally less than 10-minutes' walk from the city centre, offering students the perfect work-study balance." Sascha Liebhardt, Chancellor, NEC Munich