Project Week at Wittenborg University
Project week (PW) brings students into contact with "real life projects", either of a research nature or a practical nature. Project Week is part of the educational structure of the Bachelor and Masters courses. During PW students will be formed into groups and given a project topic during an introduction session at which the project teacher, often accompanied by a representative from the company or organisation that has helped to instigate the project. All students complete the same project in teams with the following aims and objectives: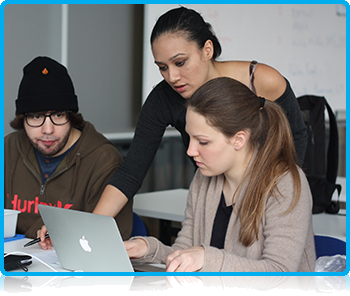 Students will form project teams with a clear role division;
Students will evaluate themselves within the team undertaking prescribed roles;
Students will produce a final report, in the form of a proposal, that can be presented to external investors;

Students will be able to present their final report, in a clear and organised pitch;
The project will be instigated by one of the business / governmental organisations in and around Apeldoorn, working with Wittenborg University. Representatives from that organisation will be involved in the start-up of project week and the final evaluation for the best projects. Often a prize is awarded to the group with what has been judged as the best project. During project week students make a business excursion to the focus of the project, either a company, an organisation, or the location of an event or object that is the subject of the project week.
Example of Project Week - Bachelor in Entrepreneurship - The Apprentice Project Week\
The project week will take on a specific entrepreneurship focus that aims to develop the entrepreneurial business skills and competencies of the Entrepreneurship students. They will continue to link the week's activities to the curriculum of that block, and also visits to companies and meetings with business people will be offered.
The project weeks will be arranged in a way that the class is divided into two competitive teams and given an entrepreneurial task that has to be completed within a week, sometimes with the aims of selling, sometimes with the aim of promoting, and sometimes with the aim of creating a completely new business concept.
An example: teams will be asked to start a "car wash" company and return with profit at the end of the week. The teams will be followed, filmed and judged on their sales skills, their accounting skills, their purchasing skills, their people management skills and their organisational skills.