English as a medium of instruction is gaining more and more ground in schools and universities around the world including the Netherlands, a global research project by the British Council and Oxford University in the UK has found. "English is considered the new Latin - a world language that could enable movement in business and academia," the report summarizes. "It is seen as a passport to the global world."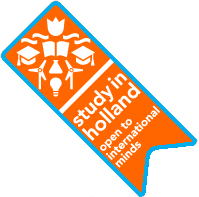 At WUAS, where students from more than 40 different nationalities reside, all modules are taught in English. Elsewhere in the Netherlands the language is also on the move with the Rijksuniversiteit Groningen just announcing English will be an obligated part of its new language policy as of 1 September.
The research proves a shift from English taught as a foreign language (EFL) to English as a medium of Instruction (EMI) for academic subjects.
The first phase of the project was to map the size and shape of EMI in the world today - 55 countries were included. The full report of the first phase will be available in November 2014.
Findings so far confirmed that EMI in both public and private education - primary, secondary and tertiary - is a growing global phenomenon. However, EMI is found more in private education. In 90,9% of private universities - like Wittenborg - EMI is allowed compared to 78,2% of public universities.
In European countries teachers were "overwhelmingly" unaware of any policy on EMI in their universities, though they were well aware of the growth of EMI and the importance of programs such as Erasmus. About 83% of countries indicated they did not have enough teachers to respond to the growing need.
Though EMI is "galloping" ahead in the world and even prioritized by countries such as Croatia and Uzbekistan, it is still proving to be a hugely controversial and sensitive issue for others. Some countries are determined to protect a home, unifying language(s) or education system. Israel, Senegal and Venezuela for instance were reported as not allowing EMI in public education. Meanwhile in Italy, higher education institutions had fought - and won - a battle against EMI.
For university administrators EMI not only represents internationalization but also survival. "The ability to teach a class of mixed nationalities means universities can attract high-fee- paying students and produce high-quality research papers in English, helping them move up in the international rankings."
The second phase of the project will involve studying clusters of countries in more detail to unpack some of the findings made to date.
The British Council-Oxford report states that the phenomenon of EMI has very important implications for the education of young people and policy decisions in non-Anglophone countries. "Yet little empirical research has been conducted into why and when EMI is being introduced and how it is delivered. What are the consequences of introducing EMI on teaching, learning, assessing and teacher professional development?
WUP 7/6/2014
©WUAS Press
by Anesca Smith