Dutch students going international in Holland
Dutch Student Explains Why She Fell in Love with Wittenborg and Now Goes to Every Single Class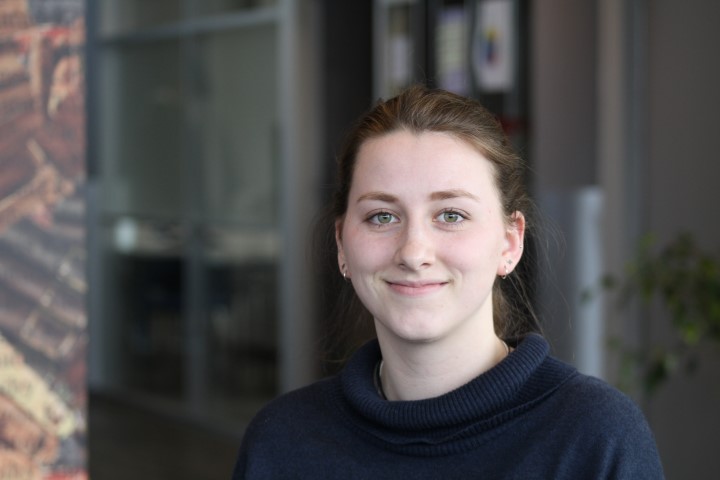 'If you speak English in a Dutch environment it sounds weird. But here, 10 minutes into Introduction Day and you discover: everybody does it, and no one cares how you sound.'
WUAS may be international, but it also attracts plenty of Dutch students – even ones from its own backyard: Apeldoorn!
WUP's Anesca Smith meets Marjan Jansen, barely 18 years old and doing an IBA in Economics & Management at Wittenborg after attending one of its NXTLVL Opening Evenings and falling head over heels in love with the university. In an interview she tells how she quickly realized that university is not high school and all the responsibility for your progress depends on you.
Hello Marjan. When did you start your studies at Wittenborg?
I started in September, 2015, in Phase 1.
Why did you choose to study at Wittenborg?
I am from Apeldoorn and attended one of the NXTLVL evenings where I went to a presentation from Wittenborg. Afterwards I told my Dad (who was with me): I like it so much here!
What did you like about it?
Everything. The presentation was great and everyone made me feel like I had a chance to do something good. Then I got a brochure from the school, saw the EEG and everything was so well informed that the decision was very clear to me.
How has your experience at Wittenborg been so far?
I've realised that it all comes down to you – how much you put in. If you don't go to classes or do your work, you carry the consequences. In high school if you don't show up for three classes in a row, the school contacts your parents, but here I really feel the responsibility to go to every single class.
And it has paid off?
Yes, definitely. I found that if I attend classes and concentrate on them, I can afford to spend less time studying at home. I wouldn't say I'm too lazy to study at home, but I want to do that as little as possible so I attend every class, listen attentively and take lots and lots of notes. In that way I don't need so much time to study for the exam.
Wittenborg is distinguished by its small classes. What do you think?
I prefer it. After a couple of lessons the teachers start to remember your name and single you out for questions. They show a lot of interest in you.
Do you see an international environment as an advantage?
I also visited the HAN in Arnhem and there they said about 20% of their students are international. Here it was the opposite: Everybody is international and that is what I wanted.
What are your career ambitions?
I just turned 18 in February! I have no idea.
Do you have a favourite class?
Finance. I've always liked working with numbers.
Least favourite?
European Law is not really my thing.
What do your Dutch friends say about you studying at an international university?
Some of my friends also went to business schools but not English-taught ones. There was some scepticism about the language issue. Some of my friends said: "It's all in English! How are you gonna make it?"
But you speak English so confidently.
Believe me, it took a while. If you speak English in a Dutch environment it sounds weird. But here, 10 minutes into Introduction Day and you discover: everybody does it, and no one cares how you sound.
WUP 10/4/2016
by Anesca Smith