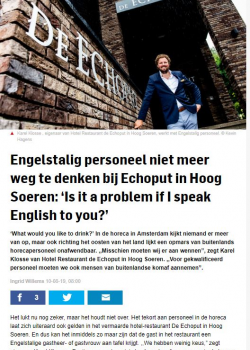 Growing Interest from Dutch Companies in International Students
When the owner of the 5-star De Echoput Hotel & Restaurant, Karel Klosse, hired a Ukranian student from WUAS to act as host in his Apeldoorn facility, he had no problem with the fact that his new employee spoke no Dutch.
"Eyebrows were raised when I proposed it to my team. An English-speaking host? But he was very presentable and I thought, why not? Luckily it worked out well," Klosse explains. The student in question was Ilia Kupris, who this summer at the age of 19 became Wittenborg's youngest graduate ever. Kupris has in the meantime been offered a position as junior manager at De Echoput, starting 1 September.
According to Wittenborg's Head of the School of Education and senior lecturer, Bert Meeuwsen (MBA Med), there is a growing interest from Dutch companies in students from abroad. "They have something extra in their competence set in that they have already shown great determination by choosing to study in a foreign country. For companies who trade with China, employing our Chinese students is very attractive - not only do they understand Chinese culture, but also the Western way of doing business."
While it is common for the hospitality sector in big Dutch cities like Amsterdam to hire Englis-speaking staff, it has not really caught on in smaller towns, making Klosse's decision all the more remarkable.
Klosse was featured in an article in De Stentor newspaper where he explained that, given the general shortage of qualified staff in the sector, foreign employees will eventually need to be hired. "There is quite simply not enough Dutch people who still want to work in hospitality, though for us the decision was not made completely as an emergency measure. There is a discussion going on about whether Dutch as a language or Dutch culture is being und ermined by this, but you could also argue that this is about the way you communicate with your guests."
According to Klosse their guests are becoming more international. "Even though the majority of them are still from the Netherlands, we are getting more and more guests from Belgium, Germany, Asia or Arabia. Our English-speaking staff will always ask guests if they find it problematic to be addressed in English."
Meeuwsen said De Echoput has already employed 5 students from Wittenborg over the last 3 years. "It has plans to grow gradually from a Dutch 5-star to an internationally renowned 5-star hotel and restaurant, and happy to have Wittenborg with its international students in the neighbourhood." Aside from De Echoput, other international companies based in Apeldoorn have also employed students from Wittenborg, like Royal Talens which is renowned around the world for its quality art products.
WUP 19/8/2019
by James Wittenborg
©WUAS Press