Wittenborg to Partner with Top Australian University
Wittenborg has signed its first partnership agreement with an Australian institution, Deakin University, which was ranked in the top 1% of the world's universities by the Academic Ranking of World Universities (ARWU) last year and it has just entered the Top 200.
s00045
Wed, 17/07/2019 - 10:48
Wittenborg continues its AACSB journey at ICAM 2019 in Edinburgh
Wittenborg (WUAS) was represented earlier this month at the AACSB ICAM conference in Edinburgh, by Professor Dr Ron Tuninga, Vice President Academic Affairs, and Dr Rauf Abdul, Head of the WUAS School of Business. ICAM is AACSB's yearly gathering, and the event brings together business school dean and leaders from around the world.
s00045
Wed, 24/04/2019 - 12:59
Wittenborg's Onwards March to Becoming Top Business School
During Wittenborg University of Applied Science's annual New Year Reception, Wittenborg's chair of the executive board, Peter Birdsall, gave an oversight of the past year's successes and what the focus will be in 2019.
s00045
Mon, 14/01/2019 - 15:04
Wittenborg VP Co-Presents AACSB Seminar
Wittenborg's Prof Ron Tuninga, Vice-President of Academic Affairs, recently co-presented a seminar on AACSB standards and processes in Germany, together with Tim Mescon, Executive Vice-President of AACSB.
s00045
Wed, 03/10/2018 - 17:19
WUAS attending EAIE in Geneva Switzerland
Wittenborg University of Applied Sciences is having a successful week, after ICEF HE it is now attending the EAIE Conference. EAIE is The European Association of International Education and its annual conference attracts thousands of participants from colleges and universities across the globe.
s00045
Thu, 13/09/2018 - 17:56
Wittenborg at AACSB Conference
The Head of Wittenborg's Business School, Dr Rauf Abdul, recently attended the AACSB's annual accreditation conference in London where he met with peers from Europe, the Middle East and Asia.
s00045
Sun, 13/05/2018 - 13:23
Wittenborg Announces Priorities for New Academic Year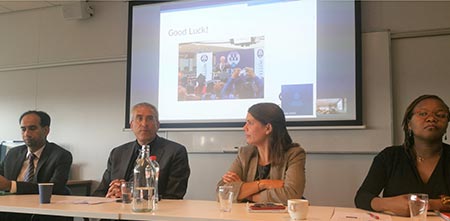 s00045
Thu, 31/08/2017 - 16:03
Wittenborg Now Member of Prestigious AACSB Club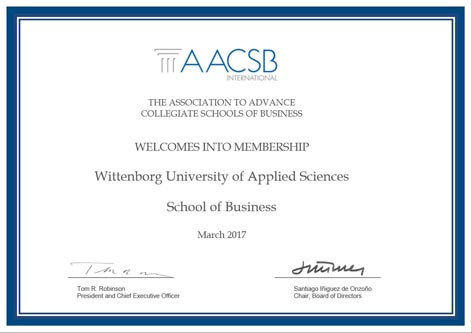 s00045
Mon, 10/04/2017 - 16:34