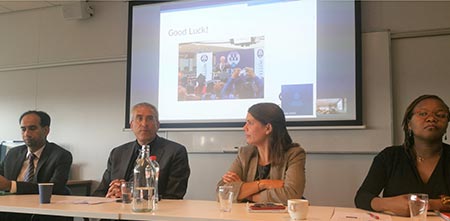 Ramping up academic quality and improving student experience will be some of the main priorities in the new academic year at WUAS.
This is according to the chair of executive board, Peter Birdsall, who welcomed staff back from the summer holiday during the annual general meeting in Apeldoorn on Tuesday. For students of Wittenborg, classes will start on Monday, preceded Thursday's orientation day for new students.
More resources for education management
Additional resources will be allocated for education management - including the training of teachers to improve classroom experience, for the Graduation Exam Board to screen papers and dissertations, as well as for regular classroom peer monitoring. Tying into these goals, Wittenborg will from this year offer a Postgraduate Certificate in Teaching & Learning to all its academic staff. From 2018 it will also be open to external applicants.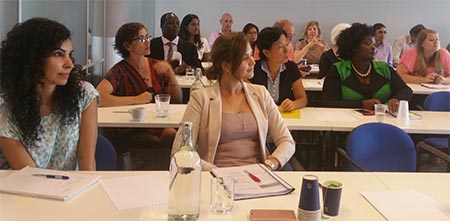 New! Master in Education
Birdsall also announced that Wittenborg will seek to validate a new programme - a Master of Arts (MA) in Education - later this year in conjunction with its academic partner in the UK, the University of Brighton. Eventually, it also hopes to offer a bachelor's degree in Education.
Meanwhile, the Head of the School of Hospitality, Esther Gitonga-Bakker, said the first students to do a Master of Science degree (MSc) in Sport Business Management will start in October. The accreditation of its Bachelor in Hospitality Business Administration (HBA) will also be happening this year - an accreditation panel is expected to visit Wittenborg in March next year.
Following on from last year, further measures will be taken to consolidate its position in the international market as an institute of quality education – including a number of accreditation processes lined up in the coming year.
AACSB Accreditation
For one, the institute will forge ahead with its bid to gain accreditation for its IBA and MBA programmes from the prestigious Association to Advance Collegiate Schools of Business (AACSB International) – an American professional organisation focused on advancing business education.
Wittenborg is already a member of the AACSB. Birdsall said the AACSB has some collaboration agreements with the Dutch Flemish Accreditation Organisation (NVAO), which has already accredited most Wittenborg programmes.
Also up for re-accreditation by FIBAA and NVAO is Wittenborg's EBA (Entrepreneurship) programme offered in Amsterdam.
WUP 31/08/2017
by Anesca Smith
©WUAS Press