Wittenborg Now Member of Prestigious AACSB Club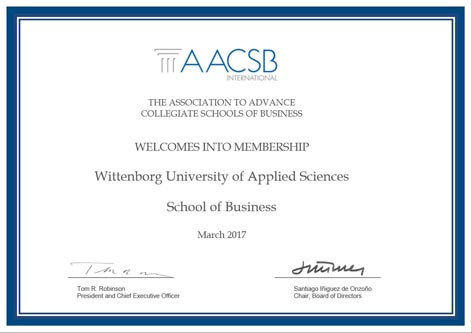 WUAS has taken the first step towards gaining accreditation from the prestigious Association to Advance Collegiate Schools of Business (AACSB International) – an American professional organization focused on advancing business education.
Wittenborg has recently been granted membership to AACSB and will start with the long accreditation process later this year. According to Wittenborg's chair of the executive board, Peter Birdsall, this process can take up to 3 – 7 years. Only a select group of business schools eventually achieve this. "It definitely increases the quality of your institution," says Birdsall.
Unlike other accreditation agencies the AACSB is not a national body. "It has some collaboration agreements with the Dutch Flemish Accreditation Organisation (NVAO), which means for certain aspects of the process we might not have to go into quite the same depth," Birdsall said.
Two years ago AACSB and NVAO signed a collaborative agreement enabling schools in the European region to earn initial accreditation with both organizations under a single, streamlined process. For schools in the Netherlands and Flanders this means administrators will experience greater ease in preparing for accreditation review without compromising on standards.
Wittenborg wishes to gain accreditation for its IBA and MBA programmes. Just a few days ago it completed the first of a series of quality audits of its Bachelor of Business Administration programmes scheduled for this year. In this respect it seeks double re-accreditation for its Bachelor programmes from both NVAO and the German-Austrian-Swiss Accreditation Agency, Foundation International Business Administration Accreditation (FIBAA).
The final report from the FIBAA panel is expected around 30 June 2017.
WUP 10/04/2017
by Anesca Smith
©WUAS Press