WUAS attending EAIE in Geneva Switzerland - Orange Parties & Business School Dinners
WUAS is having a successful week, after ICEF HE it is now attending the EAIE Conference. EAIE is The European Association of International Education and its annual conference attracts thousands of participants from colleges and universities across the globe.
The conference hosts many workshops, seminars, poster presentations and research presentations, all around the theme of internationalisation in education. At the same time there is a large exhibition where Higher Education providers, Universities and Colleges from around the world promote their products and services, often grouped into 'national stands'.
Study in Holland - thanks to Nuffic
WUAS is taking part in the Study in Holland booth, together with other Dutch research and applied sciences universities. During the conference, Wittenborg's Chair Peter Birdsall has met with representatives of other international universities and business schools, and also service providers of research support and marketing initiatives. According to Birdsall, the Nuffic was 'extremely helpful in facilitating our meetings, and the organisation of the event from their side was perfect'. WUAS has established a number of new partners during meetings at the Study in Holland stand.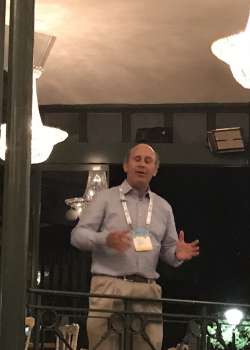 Orange Party and Business Dinner
Around the EAIE conference there are many side events, such as the (in)famous IELTS Party at which participants can enjoy themselves into the early hours.
Study in Holland also organised the 'Orange Party' which was attended by many guests of the Nuffic and Dutch institutes. The event was hosted by the Nuffic in partnership with AON, Wittenborg's long standing insurance partner.
Highlight was the annual Business School Dinner hosted by AACSB at which business school leaders meet to discuss cooperation and joint programmes and projects. The welcome address was given by Tim Mescon, Executive Vice President and Chief Officer, Europe, the Middle East, and Africa. Wittenborg is a member of AACSB and AMBA and is currently preparing these prestigious accreditation tracks.
WUP 13/9/2018
by James Wittenborg
©WUAS Press