Wittenborg Vindicated: Dutch Research Universities Found to be Registering Unqualified International Students Through Pathway Programmes For Visa
More than a year after Wittenborg University of Applied Sciences called on Dutch education authorities to look into allegations that recruitment agencies are fast-tracking international students into research universities despite not having a qualification that is equivalent to the national requirement, Wittenborg's claim has now been justified.
s00045
Sat, 20/06/2020 - 11:49
Post-Study Work Visa in Netherlands and Australia "Too Short"
A survey among international students and alumni at Wittenborg University of Applied Sciences has indicated that they deem the current orientation year for graduates to look for a job in the Netherlands insufficient. More than 70% favour a 2-year post-graduation work visa instead.
s00045
Mon, 28/10/2019 - 08:19
Wittenborg Launches Study Speed Limit Campaign for its non-EU students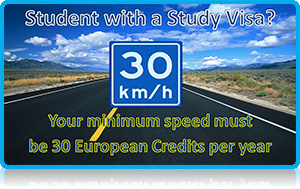 s00001
Mon, 14/10/2013 - 11:34
Study in the Netherlands made easier and cheaper by new Dutch Visa Regulations!
s00001
Wed, 10/04/2013 - 17:14
Residence Permit for Study (TEV)
If you are a non-EU citizen and wish to study at a Wittenborg University of Applied Sciences in the Netherlands, you will need a provisional residence permit (MVV) and a residence permit (VVR) to study in the Netherlands. What are the conditions for this residence permit? And how does the application procedure work?
These procedures and conditions also apply to exchange students.
CONDITIONS
Source: Immigratie- en Naturalisatiedienst (IND)
s00045
Wed, 16/11/2011 - 11:26