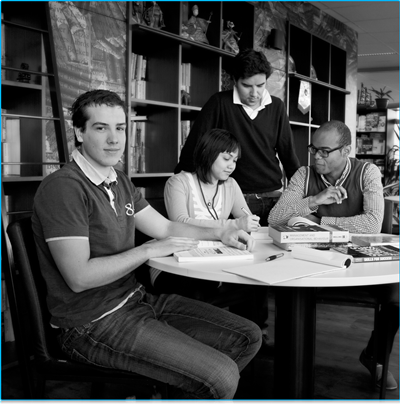 Whilst the French government today announced the re-instatement of the Search Year for Work after Graduation, many international students in the Netherlands graduating this summer are faced with the challenge of entering a so-called "search year" (In Dutch known as the Zoekjaar). The Search Year enables students graduating from Wittenborg, and all other Universities in the Netherlands, to spend a year looking for work. During that year, these graduates are free to work as many hours as they wish, for the minimum wage or higher. No work permit is required once the renewal of the residence card has been granted by the Immigration Authorities.
The dilemma for many students is how to spend their time during this Search Year, as many students are eager to take up employment that pays wages as soon as possible, but often this work reduces their capacity to search for and find an eventual job that will provide a minimum year contract with a salary that meets the requirements (at least € 26.931 a year).
The Search Year is valid for exactly that – 1 year. After the year is completed, students either have found a suitable employment position, returned to study in the Netherlands (for instance a Master degree), or left to go home or elsewhere. The Dutch government, employers organisations and institutions are doing all they can to stimulate knowledge migrants to remain in the Netherlands and find professional employment.
Many Wittenborg students have been successful in finding a position in a Dutch company as a knowledge migrant; however there is also a clear trend that Bachelor graduates often return to the classroom as a Master student, after having spent a year in the Search Year. In this way it is possible for a Bachelor graduate to have a second attempt at the Search Year (Zoekjaar), once having further raised his or her qualifications with Master degree.
Information of how to apply for the Search Year can be found here: http://www.wittenborg.eu/search-year-apply.htm
For those interested in International Event & Project Management, International Tourism, or International Hospitality Management, information on joining an MSc programme at Wittenborg after having rounded off a search year, without having found suitable employer can be found here: http://www.wittenborg.eu/request-information-master-international-management-programmes.htm
WUP 12/6/2012