IELTS Launches Online Test for Prospective International Students
s00045
Sat, 25/04/2020 - 14:12
Future of International Classrooms Discussed in The Hague
s00045
Thu, 11/10/2018 - 17:57
Preparation & English Language Programmes
The Pre-Bachelor's Foundation programme allows students to, alongside the language classes, follow foundation modules of the International Bachelor's in Business Administration (IBA) as preparation for their bachelor's programme. The English and Business Preparation Programme, which we also call Prep Course or Foundation Programme for short, is offered in combination with a Bachelor's Programme.
s00045-new
Thu, 05/03/2015 - 17:23
International students from a total of 13 countries will soon be exempted from taking an English language test prior to studying in the Netherlands
s00001
Thu, 19/06/2014 - 10:54
The Swiss don't make the grade to study in English in Holland, according to Dutch Universities today!
s00001
Thu, 05/06/2014 - 19:00
The Netherlands still accepts TOEFL and TOEIC tests!
s00001
Fri, 23/05/2014 - 14:31
IELTS improves its security with a new biometric system for test-takers
s00001
Fri, 25/10/2013 - 15:37
Study IELTS English Preparation at Wittenborg University of Applied Sciences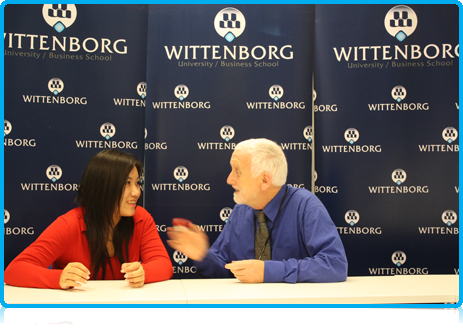 Wittenborg offers an intensive IELTS English preparation programme for entry into its undergraduate and postgraduate programmes. Students with an IELTS level 5 are offered a full one-year IELTS English programme.
s00001
Fri, 14/12/2012 - 15:20