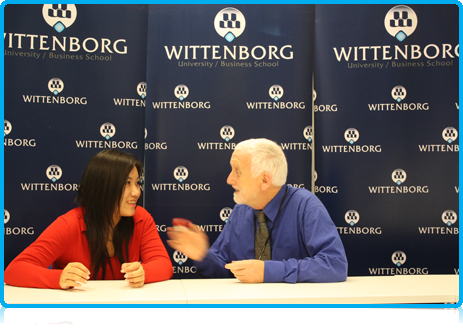 Wittenborg offers an intensive IELTS English preparation programme for entry into its undergraduate and postgraduate programmes. Students with an IELTS level 5 are offered a full one-year IELTS English programme. If progress in the target language reaches a 5.5 level of IELTS, then students can combine a number of business modules from the first year of the International Business Administration. This decision rests with the tutor and coordinator of the foundation course.
Students whose entry level is IELTS 5.5 are offered a half-year preparation programme before starting their chosen bachelor's pathway.
NOTE: The IELTS Preparation Programmes start 6 times a year, which means that as soon as you have completed your IELTS test successfully you can stream into the bachelor's degree programme at the next entry point (also 6 times a year).
For master's students, there is a special Advanced Academic IELTS programme offered as part of the Pre-Master's programme. This starts in February, allowing students to begin their chosen MSc programme in September.
English language requirements for entry into Wittenborg degree programmes
In order to successfully study at Wittenborg, students must have adequate skills in the English language, comparable to certain levels used by the English Language Testing System (IELTS):
Bachelor's entry IELTS = Academic IELTS 6
Master's entry IELTS = Academic IELTS 6.5 with at least a 6 for the writing component
Wittenborg also carries out its own internal testing known as WELTS, which mirrors the IELTS examination. This testing is carried out by experienced IELTS teachers, and is used to monitor entry levels and progress throughout the programmes.