Student-Centred Environment
The size of Wittenborg University of Applied Sciences enables an atmosphere where students feel part of a team in a personal environment. The university teaching methodology allows students to experience many different situations.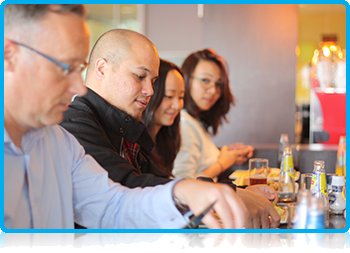 Staff to Student ratio = 11:1
Maximum 30 students per lecture
Workshops of 10-20 students
Project week student teams of 4
Provision of Student Support/Coaching by Teaching Staff
Wittenborg has two types of student tutor support systems, one for academic issues and one for non-academic issues (see 4.5.3). The school has an open door policy so that students find all staff easily accessible during office hours on the days they are working. Also Wittenborg Online and the email system make it easy for students to contact the correct staff member about any issue. Wittenborg is also small enough to allow students to have easy and direct contact with management, if they wish.
Student Tutors
• In phase 1 and phase 2, students are allocated a "class tutor", who is responsible for monitoring student progress and ensuring student well-being through coaching and support. The tutor is also involved with the student teaching programme, either through the language programme or through personal development programme. Tutors have contact with students on a weekly basis, and also through regular online contact and emails.
• In phase 3, students are allocated a personal academic tutor who is responsible for monitoring progress, advising on paper writing and research and preparing for work placement/experience. Tutors have regular meetings with these students and keep contact at school and online.
Once a year, all students have an evaluation interview with a tutor from the Education Department who assesses their progress and draws up the study agreement for the next academic year. During this "appraisal" interview the students Phase Status is determined based on the credits achieved and the modules completed.