Graduates celebrate their degrees in 2012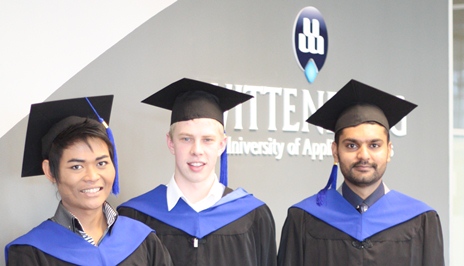 Wittenborg Business School was pleased to see the graduation of 3 of its students last Thursday, including the first of the so-called BTEC MBO route students, Ben Visser. Ben's remarkable education career started at Albeda College (Rotterdam), a college of further education that offers an international business studies MBO programme combined with the UK's BTEC certificates / diplomas – comparable to the Netherland's Associate Degree level (AD).
During his college studies, Ben spent time in the UK completing a retail work placement, which placed him in a good position to start his studies at Wittenborg.
Dutch MBO - BTEC students often enter the Bachelor of Business Administration programmes in the second phase, and can complete the programme in between 2 and 3 years, and are expected to complete an international work experience. By the time Ben started his IBA Economics and Management Bachelor degree programme at WUAS, he was already working for the multinational Econosto Nederland B.V., where he still works today, as a Sales engineer at the Maritime International department. At Econosto, Ben facilitates customers through the whole offer and order process and is responsible for an own range of customers. Other areas include being responsible for the whole RMRS (Russian Maritime Register of Shipping) certification process of Econosto products as customers require, and introducing Econosto. to potential customers, around the world.
A period of work placement (internship) at Econosto locations in Singapore and Malaysia concluded Ben's degree programme, and showed that as a highly motivated international Dutch student the beginnings of an international career in sales and consultancy can be combined with the hard work of a full time Bachelor degree Business Administration in Economics and Management at Wittenborg Business School!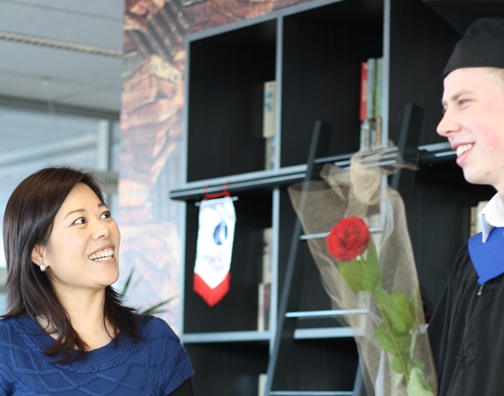 Ben was awarded his degree by WUAS Director and Member of the Board, Mrs Maggie Feng, who praised his achievement by noting his remarkable ability to combine work and study and adding that she thought he had shown excellent skills in sales, joking that he could sell to anyone!
Maggie Feng went on to explain that Ben is a good example of the vocational higher education student (HBO) at Wittenborg, who in contrast to the academic MSc pathway students has his eyes firmly set on a fast and solid developing international business career now that his IBA graduation is completed.
Ben announced that his career will take a new turn next month, as he moves to Ho Chi Minh City (Vietnam) to start new ventures there!
WUP, 11/02/2012 - Apeldoorn