WUAS Annual Staff Dinner 2022 - First Big Event Since Lockdown
Wittenborg's Milestones and Developments in the Pipeline
Complete freedom of social integration may not be on the menu as yet since the lifting of the lockdown in the Netherlands, and gathering in big numbers definitely feels strange to some staff of Wittenborg. However, the gaiety and merriment shown on the faces of staff and guests at Wittenborg's Annual Staff Dinner on 11 March was evident. Many felt relief after being isolated for so long and glad to be able to be with friends after a long time apart. The mood, from the reception, waiters and event organisers to staff and their spouses was one of determination to enjoy the solicitous ambience as they came dressed in glamorous cocktail attire. Words such as "It feels strange" and "It's so good to finally meet everybody" abounded. Such was the feeling in the air at Wittenborg's first social event since the start of the lockdown two years ago.
P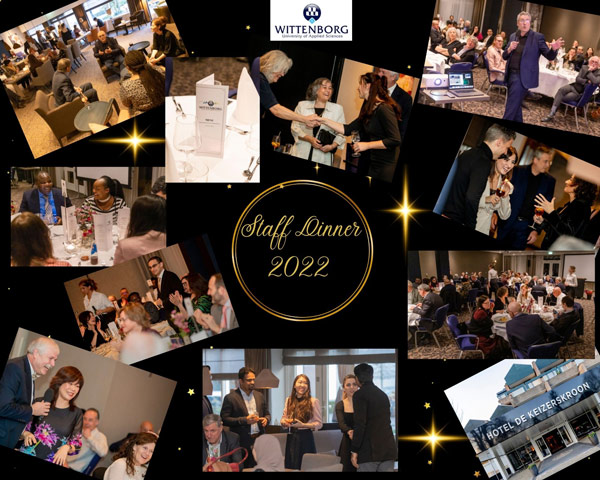 lanning the event, which started last year, was exciting, as commented by Sophia Faraji,  Support Office & External Relations Coordinator at Wittenborg. Although the planning was tinged with a certain nervousness as no one knew what lay ahead and everything was contingent, Faraji commented, "We were looking forward to organising such events after 2 years absence. It was nice to invite colleagues this time not for a virtual event, but an actual gathering with so many pleasant moments."
The event commenced with a speech by CEO Maggie Feng, who took the opportunity to express her gratitude towards all staff in all departments and external board members who invested their time at Wittenborg, as well as their spouses for their continuous support. It was followed by a presentation by President of Wittenborg Peter Birdsall, who  took the guests on a journey of Wittenborg's milestones for the past 35 years and future developments, like Wittenborg's new campus building, new student housing, the EUROCHRIE Conference and Wittenborg's gala at the end of the year to celebrate its 35th anniversary. Two outgoing board members were also thanked and honoured with bouquets of flowers from Karen Penninga, Director of Corporate Governance.
More Such Events Please!
Vanessa De Oliveira Menezes, Associate Professor of Applied Sciences, who joined Wittenborg in September last year said, "The staff dinner was really fun because it was a good opportunity to meet many colleagues in person. Because of COVID-19, meetings were online and hybrid but during the dinner I had opportunities to meet most staff."
Xiaoli Wu, Wittenborg's Support Office and External Relations Coordinator stationed in Wittenborg Amsterdam, commented, "The staff dinner was great, especially for me as I do not have many opportunities to communicate with our Apeldoorn colleagues. The dinner provided a good chance for all Wittenborg staff and external members to meet and talk with each other, which is even more precious after the lockdown. I enjoyed the opening and introduction part by Maggie, the speech by Peter and those nice words from other colleagues coming to talk with me - it was so fun and warm, giving me so much the family feeling of Wittenborg."
When asked whether staff would like more events like this, Menezes said, "Events like this should be organised more often as it could bring a more hospitable and relaxed environment to the Wittenborg working atmosphere." The sentiment was echoed by Wu, who remarked, "Definitely I would love more events like this, with the hope that we can organise it once in Amsterdam."
Senior Lecturer Dr Arie Barendregt said, "It was a pleasant meeting, particularly with the lovely support staff of our institution. On the other hand, I missed some of the lecturers I work with during my MBA and MBM modules, and I would have loved to meet them 'live' again. Perhaps it is a good idea to combine future dinner sessions with a 'live' teacher meeting prior to the dinner?"
Faraji further remarked, "We received a lot of positive feedback during and after the event from the attendees. We also organised a profile photo shooting by professional photographers and this was much welcomed by the staff and guests. I am delighted that it went well and that colleagues enjoyed their time there."
Wittenborg Process and Quality Manager Myra Qiu, also involved in the planning of the event, commented, "The manager from Bilderberg Hotel De Keizerskroon in Apeldoorn, the venue of the dinner, was also happy to receive guests and host the event for Wittenborg again after 2 years. It is helpful to promote Wittenborg's local image by keeping sustainable relationships with the hospitality industry. It was great that various board members and externals from the academic and professional fields were present at the dinner. It was a celebration of their valuable efforts for Wittenborg's development. This is just one of the ways of showing our appreciation to them."
WUP 18/3/2022
by Hanna Abdelwahab
©WUAS Press