Wittenborg Students Based in Bad Vöslau, Austria Face National Lockdown
Wittenborg Students Based in Bad Vöslau Face National Lockdown
Since 22 November, students based at Wittenborg's Bad Vöslau study location have been going through the national lockdown adopted by the Austrian government. In effect until next Sunday, 12 December, the measures require the country's population to stay home, except for activities such as doing groceries, exercising outdoors or going to places like banks or pharmacies. Additionally, Austrian schools and kindergartens are allowed to stay open.
Wittenborg University of Applied Sciences has 12 HBA (Hospitality Business Administration) students in Austria, out of which eight live at the College Garden Hotel, where the International College of Tourism and Management (ITM) is also located. Last October, the president of Wittenborg, Peter Birdsall, visited staff and students in Bad Vöslau for the first time since the start of the COVID-19 pandemic. Before that, Birdsall had last been to WUAS' Austrian study location in 2019.
Coming from four different countries, Gambia, Turkmenistan, Iran and South Africa, Wittenborg students who live at the College Garden Hotel are currently having online classes. For their meals, they have the option of going to the hotel's restaurant or, if they prefer, they can order food or use the establishment's two guest kitchens for cooking. Besides that, the College Garden Hotel has sports facilities and entertainment options such as video games and streaming platforms. The students can also make use of ITM's library and computer labs to work on their assignments and readings.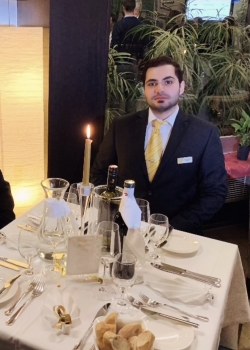 Hamid Ameri, an HBA student from Iran, explains that, because all of his programme's activities are now conducted online, it has become more difficult for students to contact lecturers when they have any problems or questions. "On the other hand, meeting your peers for group assignments is way easier now, because everyone is in the same place, all the time," he adds.
Ameri says that, apart from studying, he spends most of his time playing tennis or watching films and series with his friends. "We have been spending a lot of time together. The fact that there are quite a few students here, and we are about the same age, and come from different countries and cultures, makes the situation lighter. If we were alone, it would be tougher."
Regarding his goals for post-lockdown, Ameri mentions that he plans to apply for jobs in the hotel sector. "I currently have a job, but I would like to work in hospitality and gain more experience in this field. So, after the lockdown is over, I will be looking for opportunities."
College Garden Hotel
Built in the 20th century, the College Garden Hotel building was originally used as a lodging for workers of the Austrian Federal Railways (Österreichische Bundesbahnen).
Nowadays, apart from being a Wittenborg study location, it is also an operating seminar and events hotel with 67 business rooms and 10 conference rooms. This way, students have access to a realistic work environment where they can get insights into the fields of tourism and hospitality.
WUP 10/12/2021
by Ulisses Sawczuk
©WUAS Press