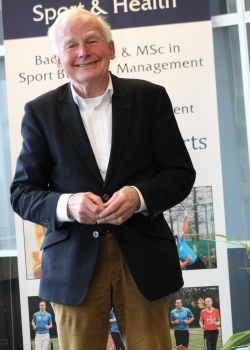 "Starting a Business in the Netherlands is Easy!"
The Netherlands is the perfect country to start a business – yes, even if you are still a student! Since April 2017 international students no longer need to obtain a permit to start their own business – they can work for unlimited hours alongside their studies and part-time job.
But what does it take to be a successful entrepreneur? What is the business climate like at the moment in the Netherlands?
We asked Ben Prins, business development advisor for WUAS, for a few tips. Prins also runs his own consultant company, PMC, in addition to his involvement in getting the education sector up to speed with the new industrial revolution, Smart Industry. This is what he said:
It is easy to start a business in the Netherlands
First you have to decide on a name for your business. Then select which legal form will suit your company best – here is an overview of Dutch business forms.
Next, you should register your company name with the Dutch Chamber of Commerce (Kamer van Koophandel). They will supply you with a commercial number, which has all sorts of uses such as opening a business account for example.
Finance Options
Nowadays, regular Dutch banking organisations are hesitant to supply young entrepreneurs with start-up capital. You have to prove that your business will be successful, which is not easy under standard conditions.
Luckily there are alternatives. For example you can find external financial means by private equity or venture capital. You can also do your own fundraising via crowdfunding platforms, for instance. If all else fails, you can also approach family or friends.
Business Climate
The business climate in the Netherlands is rather positive at the moment because of the growing economy. There are many opportunities – especially in the high tech sectors, such as robotics, 3D printing, electric cars, drones, etc. which require technical specialists like engineers and business managers.
Know what you want
First you should be clear about what you want, for instance in what PMC (Product-Market-Combination) you want to start. Write a business plan and develop your business model. Finding a business partner is not a bad idea either. Someone with some inspiring ideas of his/her own with whom you click, and whose skills and competencies complement your own.
What makes a good entrepreneur?
The most important characteristics of a good entrepreneur is to believe in your idea and not be afraid to start. You know already what you want, you formulated your idea and wrote a plan.
Biggest mistakes made by start-ups
Starting without knowing exactly what they want to reach in say 5 or 10 years from now. Not having a realistic business model.
Import and Export
If you want to import items from your own or another country, first do market research to determine whether there is market potential for your product. If the research is positive, you should write an import/export plan with all the details, figures and data.
Next you should prepare your entry into the market by getting in touch with the official institutions to check the rules and regulations which apply to your situation.
WUP 30/4/2018
by Anesca Smith
©WUAS Press