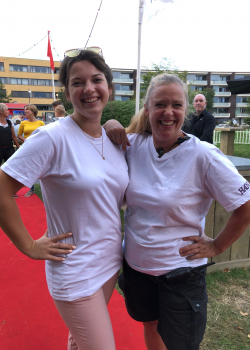 "At Wittenborg I Made Friends from All over the World"
First-year student Anna Timofeeva gets to work on some of Apeldoorn's biggest events - like the recent Apeldoorn Channel Concerts and the forthcoming Apeldoorn Business Awards. How did the Russian native manage to score such a plum position?
Timofeeva arrived 4 months ago to study at WUAS. "I started searching right away for a job related to my studies in Apeldoorn. I found a few event companies and sent emails to all of them." Totaal Organisatie, the company behind many big local events, was the one that eventually took her in. Her job is mainly assisting the director of the company and helping out at events.
At Wittenborg Anna is doing an HBA degree in Hospitality Management. She explains: "I am not allowed to do an internship in Phase 1 of my studies, so for now I am volunteering. Currently, I work between 16-18 hours a week so that I have enough time for my studies."
One of the lessons the job has so far taught her was how to stay cool under pressure. "I remember a storm broke out during the Apeldoorn Kanaalconcerten. We put the furniture away and helped the guests to enjoy the concerts regardless of the weather. Nobody was panicking, just doing their job quickly and efficiently. It was a great opportunity for me to see how professionals deal with major situations."
What has been her experience so far living and studying in the Netherlands. "When I arrived in Apeldoorn, I was surprised how clean the city is! Everyone here respects the rules and other people, their culture and views on life. Probably the biggest challenge for every international student is the language. Apeldoorn is a small city with a lot of native Dutch speakers. My family and friends are what I miss the most."
Why did she choose to study in the Netherlands? "I am always open for new experiences. I chose Wittenborg due to its high ranking and international reputation. Studying here helps me to understand and accept the mentality of different cultures. Here I found friends from Iran, India, Germany, Ukraine, Nigeria, the Netherlands and the USA. The Netherlands has a good economy and a good variety of jobs. Moreover, the environment is always welcome to new participants."
Being a true international - she is from Moscow, but has also lived in St Petersburg and London - Anna sees herself working in Germany and London after graduation in order to get work experience. "I am fully satisfied with what I am doing right now and would like to be an event manager in a big company. Afterwards, I am planning to start my own agency in the field of organising music concerts & festivals."
WUP 22/9/2019
by Anesca Smith
©WUAS Press