Internationaal - Engelstalig - Business - Management – Diversiteit
Wie zijn wij?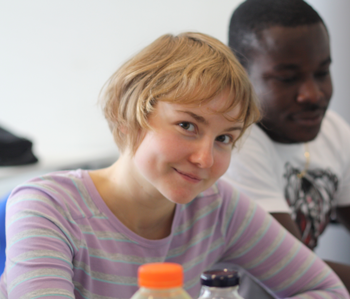 Wittenborg University of Applied Sciences, een particuliere hogeschool opgericht in 1987, is één van de meest internationale instellingen in Nederland. Op onze locaties in Apeldoorn en Amsterdam studeren meer dan 600 studenten, uit meer dan 80 verschillende landen. Vanaf september 2017 kan je ook studeren aan onze nieuwe campus in het hart van Oostenrijk, in Wenen!
De International Business Administration (IBA & MBA) opleidingen zijn verdeeld in vijf vakgebieden, namelijk Business, Hospitality & Tourism, Arts & Technology, Sport & Health en Education. Alle specialisaties hebben als basis business en management, waarna je je kan specialiseren in onderwerpen als economie, finance, marketing & communicatie, onderwijs, logistiek & handel, ondernemerschap, informatiemanagement, vastgoed, toerisme, sport business en gezondheid.
Ook bieden wij in samenwerking met de University of Brighton (Groot-Brittannië) 4 UK Master of Science (MSc) opleidingen aan in management: Master of Science International Event Management, Master of Science International Toerism Management, Master of Science International Hospitality Management en Master of Science Sport Business Management.

Waarom Wittenborg?
De huidige zakenwereld is internationaler dan ooit. Er is dan ook steeds meer behoefte aan personeel dat internationaal georiënteerd is. Met een internationaal diploma van Wittenborg op zak, ga jij goed voorbereid de arbeidsmarkt op.
Wittenborg biedt hoogwaardige HBO bachelor- en masteropleidingen aan in business en management. Al onze opleidingen worden geheel in het Engels verzorgd, en we garanderen een internationaal leslokaal met studenten uit meer dan 80 verschillende landen. Daarnaast vertegenwoordigen onze docenten en medewerkers meer dan 25 landen.
Niet alleen internationale, maar ook lokale betrokkenheid is voor ons zeer belangrijk. Wij werken regelmatig samen met bedrijven en organisaties uit de regio aan sociale projecten; Thinking Globally, Acting Locally.
Om je klaar te stomen voor je toekomst
ige baan is een combinatie tussen praktijk en theorie in je studie essentieel. Stages en praktische projectweken zijn een vast onderdeel van het curriculum. Praktische projectweken leren je samen te werken met internationale "toekomstige collega's". Deze interculturele communicatievaardigheden die je hierbij opdoet, zijn onmisbaar voor het werken in een internationale omgeving. Ook de lessen, verzorgd door ervaren professionals en entrepreneurs, dragen bij aan een goede voorbereiding op je carrière.

Praktische zaken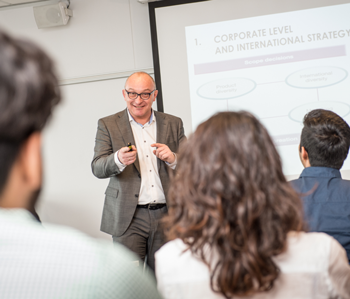 Om je aan te melden voor één van onze bacheloropleidingen moet je in het bezit zijn van een vwo, havo of mbo-4 diploma. Mocht je een ander diploma behaald hebben, neem dan contact op met ons Admissions Team.
Wittenborg's unieke blokkensysteem biedt studenten flexibele startdata voor alle bachelor- en MBA-opleidingen, waardoor je 6 keer per jaar kan starten. Dit betekent dat je niet alleen in september of februari kan beginnen aan je opleiding, maar ook in oktober, december, april of mei. We hanteren daarom ook geen aanmelddeadline van 1 mei, maar adviseren je wel om je aanmelding minstens 2 weken voor jouw gekozen startdatum in te sturen naar admission@wittenborg.eu. Na je aanmelding bij Wittenborg kan je je ook aanmelden bij DUO voor een studielening en OV-chipkaart.
Onze flexibiliteit is ook goed terug te zien in de bacheloropleidingen, die zowel in 4 als in 3 jaar kunnen worden afgerond. De keuze is aan jou!

Studenten staan bij Wittenborg centraal. Onze persoonlijke aanpak en klantgerichtheid zorgen voor een informele sfeer. Studenten worden vanaf de eerste dag tot aan hun afstuderen begeleid door hun mentor. Bij ons ben je geen nummer!
Geïnteresseerd in wat Wittenborg voor jou kan betekenen? Klik dan hier voor meer informatie, of neem contact met ons op per mail of per telefoon 088 6672 688. Je bent natuurlijk ook altijd welkom om op onze Open Dag een kijkje te nemen!

| | | | |
| --- | --- | --- | --- |
| MBA in Health & Social Care | MBA in Education Management | MBA in Finance | Master in Sport Business Management (Full-time) |
| IBA (Bachelor) Real Estate Management | IBA (Bachelor) Logistics & International Trade | IBA (Bachelor) Event Management | Master in Sport Business Management (Part-time) |
| IBA (Bachelor) Marketing & Communication | MBA in Hospitality Management | IBA (Bachelor) International Tourism | IBA (Bachelor) Information Management |