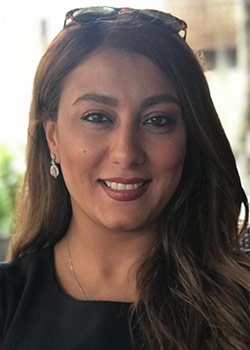 Iranian Graduate Farnoosh Dabiri Seeking to Expand Personal and Professional Horizons
By moving from Iran to the Netherlands, Wittenborg graduate Farnoosh Dabiri has had the opportunity to greatly expand her professional horizons and experience a diverse and international business environment. Dabiri, who completed an MBA degree in International Management in 2021, points out that she decided to pursue the programme because she wanted to develop her career as a project manager. "Back in Iran, I had previously worked as a project manager in the petrochemical industry, but I wanted to learn more about topics such as sustainability and corporate responsibility."
Among other reasons, the graduate highlights that she chose Wittenborg due to the quality of its teaching and because it is a truly international school, adding that its multiple entry dates are convenient for students. "This journey has taught me not only about sustainability and its role in education and business, but also about what studying at Wittenborg entails in terms of people, culture and values. I had the chance to learn a lot from many amazing people, and I am especially grateful to my classmate and friend Peter Kafatia and my supervisor Dr Joop Remmé. On top of that, taking part in the programme made me develop important transferable skills like learning agility, working under pressure, teamwork, communication and critical thinking, which have helped me achieve my professional goals."
While studying for her degree, Dabiri did an internship at Unilever's global sustainability team, an experience which she says enabled her to apply, in practice, the new skills she had acquired at Wittenborg. In this role, she was involved in various initiatives conducted internationally by the company. Moreover, Dabiri also acted as a liaison between different Unilever brands and conducted research on the company's competitors, analysing the actions they were taking in the field of corporate social responsibility.
"I got to know Unilever through some of the projects we did at Wittenborg, so the name became quite familiar, and I was really impressed by the way that the company was doing business, in terms of corporate responsibility. Essentially, what I did as an intern was to propose strategies and create a road map to help equip 10 million young people with soft and hard skills, with the goal of raising their level of employability by 2030. I also worked on other initiatives that were focused on topics such as small and medium enterprises (SMI) and supplier diversity and inclusion (SDI), as well as the Dove Masterbrand project, which is aimed at developing girls' skills and self-esteem," she says.
Five days after graduating, Dabiri got a job offer from Emergo by UL, one of the largest global consultancy firms in the medical devices sector. The graduate explains that she had applied for a position advertised by the company on LinkedIn, adding that students can only benefit from keeping detailed and updated online profiles and CVs. As Emergo by UL's international project manager, Dabiri is responsible for managing cross-functional projects that require collaboration between multiple regulatory consultants and project managers. Additionally, she allocates resources and sets milestones for each project – based on its specific requirements – and takes care of general administrative tasks. "During my time at Wittenborg, I have learned that the best project you can work on is yourself. I believe that this is absolutely helping me in my career as a project manager," she stresses.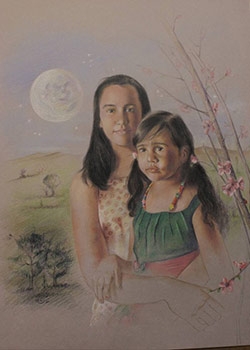 Art & Volunteer Work
Dabiri is also an artist, specialising in portraits. Having started drawing when she was a child, she later took lessons and became a professional, selling her artworks and organising exhibitions in Iran. "Instead of drawing portraits, I intend my work to reflect people's lives; I want to go beyond just drawing their faces," she highlights.
With the proceeds of her activity, Dabiri has developed multiple volunteer initiatives in Iran, including a project that provided lower-income households and vulnerable children with food and another initiative that purchased television sets, stoves and refrigerators for families in need. She explains that her motivation to do volunteer work started when she was a kid. "At the time, my father would walk me to school and there was this institute in the middle of the way where they kept disabled children. My father would always encourage me to save my pocket money, and with that money I would buy some biscuits, bananas and other things. Then, we would take the food to the institute and give it directly to the children, which was allowed back then. I was scared of those kids at first, but later I realised that they were just different and unique. After growing up a little, I started thinking about how to help people and make a difference."
Inspired by her childhood experiences, Dabiri also organised workshops for children with Down syndrome, teaching them how to express themselves through art. According to her, the activities were marked by the participants' enthusiasm as well as a joyful and collaborative environment. One year after the workshops took place, the artist drew 35 portraits of children with Down syndrome, later selling these works to a well-known Iranian hospital and investing the proceeds in education and medications for those children. Currently, she has been involved in talks with Unicef, with the goal of starting a new art project in the Netherlands, also being open to other possible partners.
In Dabiri's view, volunteer work is a deeply transformative activity that has a great impact on people's lives. "It has definitely changed me as a person; by doing volunteer work, I have become open-minded and caring, and now I care not only about people with disabilities, but also about everyone else who is around me."
WUP 13/8/2022
by Ulisses Sawczuk
©WUAS Press