Interview with new Wittenborg University lecturer Muhammad Ashfaq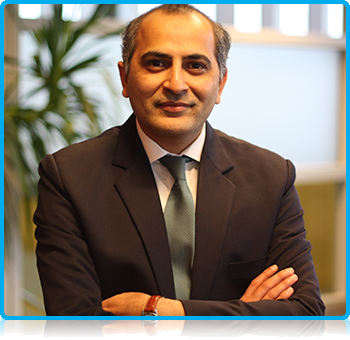 Teaching at universities in Germany as well as the Netherlands means a lot of early mornings and time spent on the road for new Wittenborg lecturer, Muhammad Ashfaq. Yet the energy and enthusiasm he exudes doesn't give you any clue about his draining schedule.
He currently juggles a lecturing job at the Rhine-Waal University of Applied Sciences in Kamp-Lintfort, Germany, with his duties at Wittenborg and is a visiting faculty member of Coburg University of Applied Sciences, Germany. In an interview he gave advice about personal development and explains why no one should be intimidated by numbers.
Welcome to WUAS, Muhammad. Where are you from?
Pakistan.
Was education important in your family growing up?
I am the first person in my family to enter college and to graduate from a university even in Pakistan and abroad. So yes, they are very proud.
What was it like growing up in Pakistan?
Pakistan is one of the most beautiful countries in the world. The differences between Pakistan and Germany (or the Netherlands) is that here my mind was broadened. I worked for many companies and met amazing people from different backgrounds. That way your personality grows.
Can you say something about your experiences as an immigrant in Europe?
The first couple of months were very hard. I was looking for accommodation and couldn't find any near university campus. Eventually I found a place 10 km away and traveled...
By public transport?
By public transport of my two legs (taps on his knees)… it was September and October and sometimes I only got home at almost midnight during heavy rains and strong winds blowing. At the time it seems very, very difficult but now when I go back to Coburg for teaching I remember it as the most valuable experience I could have had.
Which modules do you teach at Wittenborg?
I teach the Pensions and Investment module to undergraduates and will probably teach Management Accounting & Finance to MBA students.
And in Germany?
At Rhine-Waal I am a lecturer and staff member for the degree programme International Business and Social Sciences. At Coburg I am a visiting faculty member of their international MBA programme.
What is your career background?
Prior to joining Rhine-Waal University I was a team member of the Finance & Controlling Department at Schock GmbH and was employed as a specialist in finance at the Pfizer Manufacturing Deutschland GmbH Germany, a subsidiary of Pfizer U.S. Corporation. This is but a few of the various positions I've held, including numerous guest lectures in the area of Islamic finance, banking, corporate finance, financial management, SME's and Islamic law in various institutions and have conducted a TV lecture series at Paghiam TV. Besides that, I've also written various research articles and attended and spoken at national and international conferences in more than 15 countries.
Why do you think many people find numbers – whether in Accounting or Mathematics – so intimidating?
I think it is human psychology – some people want to study communication-orientated subjects because they think it's easy. In Mathematics and Finance you use formulas and you need to interpret the numbers and analyse statements – the brain works hard.
Why were you attracted to Financial Studies?
I was always interested in numbers, to interpret them and to make them meaningful. To find a short method and convey it in purposeful information for decision-making. That is the role of managers and which is what I did when I was working in the industry.
What sort of student were you?
While studying I knew clearly what my goals were and that guided me.
Why did you come to Europe?
Well, I came to Germany in 2009 for my Master degree in Finance at Coburg University. It was one of the most important decisions in difficult circumstances. That said, I had a wonderful time studying and working in Germany and Europe. I have been to many places and learned many things. I came here to see the world from my eyes and I have been to many wonderful cities and countries.
What inspires you about teaching?
I strongly believe in personal development and am convinced I can contribute to society through imparting the knowledge I gained in many world class institutions. My mission in life is to create value in my students and people through highly specialized training and teaching. One of my former professors, Khawaja Amjad Saeed, was one of the greatest people I have ever met.
What tips you can give to students regarding personal development?
Well, what I can simply tell them is to follow three things in life: hard work, stay focused and follow their passion. I believe these are the key traits for the most successful people.
Why you were interested in joining WUAS?
Well, to be honest, I conducted one seminar (on international Marketing for SME's) at Wittenborg last year and I was really inspired to see the commitment and engagement of the class. Wittenborg is one of the most reputed business schools and universities in Europe with a substantial number of international students. That is why I decided to accept the offer to teach here.
What do you do in your free time?
In my free time I like to travel and read spiritual books. I also like to read biographies of international leaders and inspirational people.
How do you motivate yourself to deal with challenging tasks?
What differentiates highly successful people from average people is their level of commitment and motivation. When I am heavily buried under many projects and work, I read inspiring books and I would like to share one of my favourite quotations. It's from the philosopher Patanjali:
"When you are inspired by some great purpose, some extraordinary project, all of your thoughts break their bonds: Your mind transcends limitations, your consciousness expands in every direction, and you find yourself in a new, great and wonderful world. Dormant forces, faculties and talents become alive, and you discover yourself to be a greater person by far than you ever dreamed yourself to be."
* Ashfaq holds a German MBA in Financial Management, a Post Graduate Diploma in Islamic Banking and Finance and an MBA in Banking and Finance which he gained at the University of the Punjab, Lahore Pakistan with distinction. Apart from these qualifications. He holds several international certifications such as Certified International trainer from Australian Centre for Education & Training, Australia and Certificate in Innovation Management and Entrepreneurship from International Summer University Carinthia Austria and many more.
WUP 22/2/2015
©WUAS Press