Lecture Delivered by Dr Mohammed Shosha to HBA Students
A group of HBA students specialising in Sports Business Management had the opportunity to learn more about doping and anti-doping practices from sports scientist, researcher and therapist Dr Mohammed Shosha, who delivered a guest lecture at Wittenborg on 28 April.
Titled 'Anti-doping: the Battle Against Cheating in Sports', the activity was conducted within the module Introduction to Sports Business Management. Shosha began his presentation by discussing the positive values associated with sport, including honesty, loyalty, commitment, fair play, teamwork and generosity. Then, he proceeded to talk about the history of doping in sport and the risks and dangers associated with these practices, as well as the main anti-doping strategies and how they have been implemented.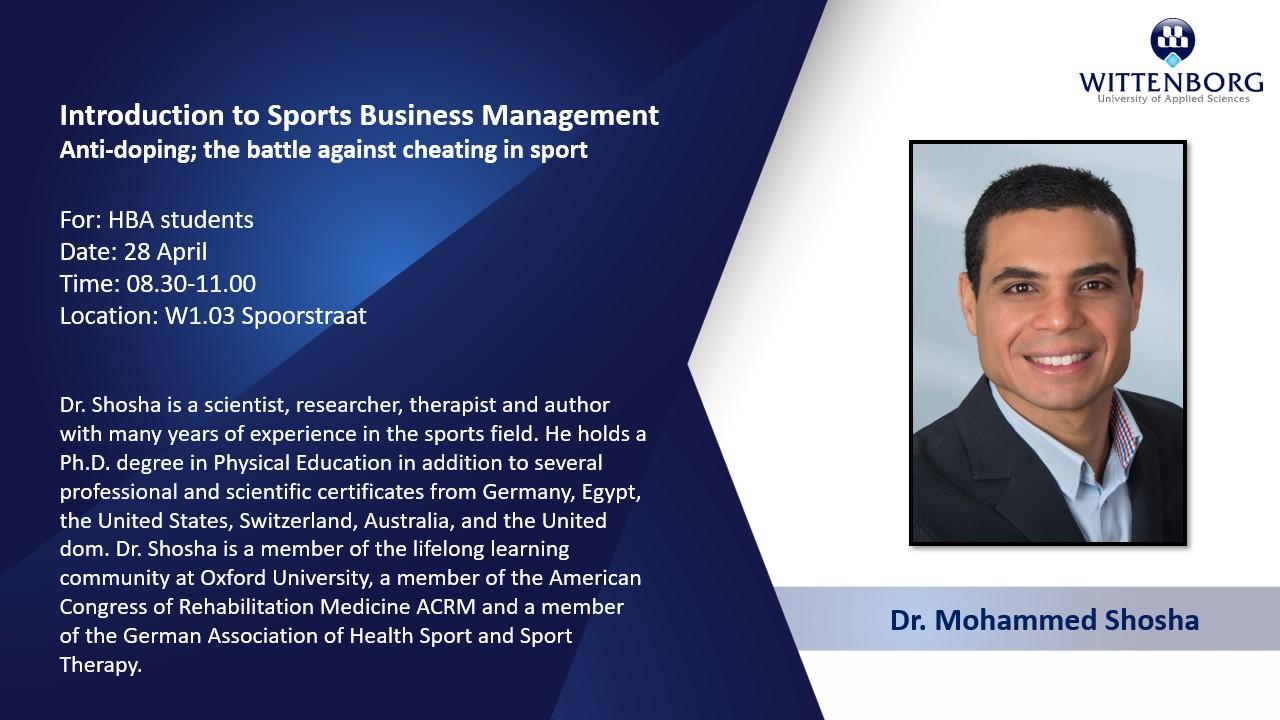 During the lecture, Shosha mentioned some of the reasons why athletes make use of doping methods, such as enhancing their performance, recovering from injuries and handling pressure. He also stressed that doping is a dangerous practice that offers considerable health, financial and social risks.
"Many studies have proven that doping can lead to a range of health conditions that include cancer and mental problems; some athletes get infected with HIV by using blood transfusions to improve their performance. There are also social risks because when athletes are caught cheating they have to deal with feelings like shame, isolation, burnout and depression. And, when it comes to the financial consequences, athletes who use doping products need to pay high prices for them; plus, if they are discovered, they will be punished with fines and might be banned from competing, in addition to losing sponsors."
In Shosha's view, the most effective way to prevent doping is to educate athletes, coaches, physicians and other stakeholders about the risks inherent to these practices. He adds that clubs and sports organisations must be supportive of athletes who are recovering from injuries, instead of pressuring them into returning to competitions.
"The main message I wanted to give to students with this lecture is that, as future sports scientists and managers, they will be responsible for developing and implementing strategies to combat doping. I also mentioned that we need more students, researchers and scientists to conduct research on doping and anti-doping, because this field is often overlooked, and doping methods are getting increasingly more sophisticated. The students were actively engaged in the session by asking questions and making comments, and this was very gratifying," Shosha highlighted.
WUP 28/5/2022
by Ulisses Sawczuk
©WUAS Press