"Sport Talents Need to Realise They Need an Education Too"
Wittenborg graduate Olumide Omotoso has proved that you can make a big difference in the world with a simple idea. While doing his master's degree in Apeldoorn, the Nigerian football player organised a shoe collection drive for disadvantaged children back in his own country.
Omotoso graduated this winter from WUAS with a Master of Science in Sport Business Management. He arrived in the Netherlands in November 2017, and soon after joined a local football club in Apeldoorn, Victoria Club.
Using Sport to Change Lives
"I want to be involved with sports while changing lives," he says of the motivation behind his idea. "Football is a much loved sport in Nigeria, but many children do not have the basic equipment to fulfil their dreams of playing football. Ask any footballer and he would tell you a good pair of shoes is the first thing you need. So, that is why I went for that."
In the first phase of his collection efforts he managed to send 55 pairs of shoes to Nigeria. Starting with his own football club and then others in the Netherlands, he asked people to donate their old sport shoes that are still in a good condition. Word got around and more and more people came forward to donate.
The next challenge was how to distribute the shoes that he took to Nigeria. "I did not just want to hand them out on the street, so I looked for structured organisations to distribute them to children in need. I approached six football clubs, one orphanage and one foundation. The most important aim for me was to motivate children to continue with sport despite their dire circumstances."
"I Want to Change the Narrative in Africa"
Omotoso, who played professional football in Nigeria, says with his master's degree he also wants to change the narrative about sport in Africa. "I want to show that getting a good education is as equally important as sport. You also need the mental ability to manage your career. There are many excellent sportsmen and sportswomen in Nigeria and Africa who often earn big, but once their career is over, around thirty or forty, there is no way forward for them. I want to develop sport in Nigeria and education is a big part of that."
What does the future hold? "I might take my passion for sport further and do a doctorate degree. I would also like to continue playing and might build a career as a sport director or manager in or outside the Netherlands."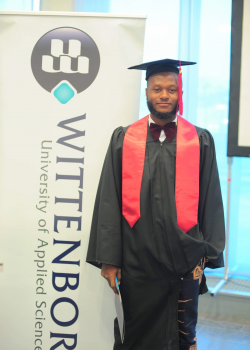 You can still Donate
Omotoso will continue with his collection drive in the Netherlands. "I'm currently working on a portfolio about the initiative to provide extensive knowledge to potential donors and sport organisations." People who want to donate shoes or other sport gear can contact him via email lumotz@live.com. His social media handle on Twitter, Instagram and Facebook is Olu_Lumotz.
WUP 18/4/2019
by Anesca Smith
©WUAS Press