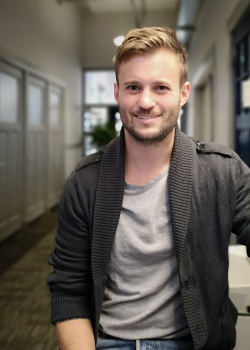 "Lerarenbeurs" Aimed at Educators Who want to Develop Careers
Just two weeks before he was due to start with his MSc in International Hospitality Management at WUAS, Dutch student Tim Geelen heard that he had been awarded the Lerarenbeurs – a scholarship for teachers from the Dutch government (DUO) to further their educations.
Geelen is the 4th Dutch recipient of the scholarship to study at Wittenborg. Three teacher-students successfully completed their master's degrees at Wittenborg in 2016, obtaining excellent results.
The scholarship is aimed specifically at educators who want to develop their professional needs. It covers tuition fees up to €7,000 per year, study material and travel expenses up to €700 and paid study leave, depending on the applicants.
Geelen is currently a junior lecturer at the Breda University of Applied Sciences. He will study part-time as, besides teaching, he is also a project leader at Breda and a musician.
According to him the fact that Wittenborg offers its MSc programme in conjunction with the University of Brighton in the UK was definitely a drawcard.
"I chose Wittenborg because I wanted to do an MSc in Hospitality on a part-time basis and there are not many universities which offer that. I always had a passion for hospitality and teaching. The idea that I can help young people in making a choice about their future really inspires me."
Besides teaching, he is also an accomplished musician who sings and plays the guitar. "But only for a select audience, my friends and family. Performing on say a show like 'The Voice of Holland' is not really my thing. I don't want to be put in a box like that."
WUP 22/10/2018
by Anesca Smith
©WUAS Press