The Courage to Start Again: MBA Graduate Beginning New Career in the Netherlands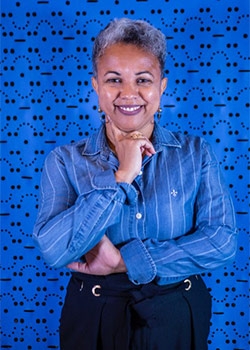 Simony Oliveira Left High-profile Job in Brazil to Pursue her Dreams
Before moving to the Netherlands to study for an MBA degree in Health & Social Care at Wittenborg, graduate Simony Oliveira had to make a major life decision. In order to pursue her dream of living abroad, she had to leave behind a 10-year career and a management position at Brazilian mixed-capital corporation Petrobras, one of the biggest oil and gas companies in the world.
Originally from a very small town named Vinhático in the state of Espírito Santo, Brazil, Simony has always been on the move. After completing a bachelor's degree in psychology from the Federal University of Espírito Santo in Vitória, the state capital, she later obtained a master's diploma from the Fluminense Federal University in Niterói, a city in the state of Rio de Janeiro.
A brief period as a university lecturer was followed by five years living in England, from 2004 to 2009, during which time she perfected her English. However, things did not work out quite as planned and Simony decided to move back to Brazil. After her return, she participated in a selection process organised by Petrobras and was hired by the company to work as an organisational psychologist.

Since 2016, Simony had been travelling regularly to the Netherlands and fell in love with the country, the Dutch culture and language, which she began to study. At the same time, she felt that she had reached the peak of her current career. "It was a wonderful job and I am very grateful I had this opportunity, but eventually I felt that while I had a good salary and a stable life, I no longer had any challenges. Initially, I requested to be transferred to Petrobras' Rotterdam office, but it didn't work out. That was when it became clear to me that I would have to leave my job so that I could start a new life in the Netherlands," the graduate highlights.
The move across the world was preceded by three years of planning, emotional preparation and saving money, and all the while her family and colleagues tried to dissuade her. "Everyone thought that I was crazy to leave such a career behind, but my mind was made up. I had already lived abroad, so I knew how difficult moving to another country is, and that is why I planned everything carefully for three years."
Back to School
In 2020, shortly before the date when Simony intended to move to the Netherlands, the COVID-19 pandemic hit. As a result, she had to change her original plans.
"I had initially considered pursuing a master's degree at another Dutch institution because I thought this would be a good entry point in the country, but everything was stopped by the pandemic. That was when I found out about Wittenborg and its six annual intakes. This flexibility was very convenient to me and I also liked the focus of the MBA degree in Health & Social Care, which was connected to my professional background and blended theory and practice. For these reasons, I chose Wittenborg, and this was the best choice I could have made," she stresses.
At 45 years old, it had been a long time since Simony had completed her studies in Brazil, and at first she encountered some difficulties adapting to her new routine. "I was a bit scared to go back to school after so many years, knowing that I would have to follow all those academic rules and study in English, which is not my mother tongue. It was hard in the beginning, but I made an effort and the lecturers were wonderful and very supportive; they would listen to us and help us all the time, and eventually things started getting better."
According to her, Wittenborg's staff are also very attentive and ready to help the students when needed. "A moment that really struck me was when I lost my father to COVID-19. I couldn't attend his funeral in Brazil, and the staff called me and asked how I was doing and if I needed to talk to someone. I doubt that other institutions would have done that. This made me realise that I was at the right place, because Wittenborg cares about its students."
When it comes to Wittenborg's educational system, Simony says that she really likes the way the school's programmes are organised in modules, which enables students to familiarise themselves with different subjects from multiple fields. "It also made it possible for us to meet and interact with students from other specialisations, and this was a very rich experience because it provided us with many different perspectives. On top of that, at the beginning of my studies the classes and group assignments were being done remotely because of the pandemic. This was challenging to me, but it eventually turned out to be helpful because nowadays I work fully online."
The graduate adds that another aspect of Wittenborg she appreciates is the school's focus on internationalisation. "Now that the Dutch government wants to reduce the number of English-language courses in the country's public universities, I am sure that Wittenborg's importance will really stand out. The institution is very focused on internationalisation and its students come from all over the world, and this is highly beneficial to Dutch society," she underlines.
Helping Others Adapt to Life Abroad
After graduating in July 2022, Simony obtained an orientation-year ('zoekjaar') visa to open her own business in the Netherlands. "It takes you a lot more paperwork than the regular orientation-year visa, which allows you to work for Dutch companies. You must prove that you have financial conditions to be an entrepreneur; in this sense, I was privileged because I had managed to save some capital over the course of my previous career," she explains.
Today, Simony works as a self-employed psychologist helping Brazilians and people of other nationalities overcome their emotional issues and adapt to life abroad. According to the graduate, her experiences as an immigrant in England and the Netherlands have provided her with invaluable knowledge that she applies to work.
"I help my clients from both a personal and a professional perspective. On the personal side, they often have to deal with issues such as loneliness, cultural conflicts, insecurities speaking another language and difficulties to make friends. And when it comes to their professional side, they experience problems such as how to adapt to a new professional reality and navigate a different work culture."
Simony points out that she reaches her clients through Instagram and LinkedIn, as well as designated platforms that advertise her services. Furthermore, she also participates in events organised by the Brazilian community in the Netherlands and nearby countries such as Germany, Belgium and Luxembourg, where she showcases her work.
The graduate adds that the skills she developed at Wittenborg have been very helpful to the development of her business.
"Wittenborg's lecturers made us see that our own professions would enable us to be entrepreneurs if we wanted to pursue this path. The business strategy subjects have been particularly useful to me. We had plenty of assignments in which we would choose a company and analyse it, with the goal of understanding their brand and market strategy. This really helped me start my own business. I hired a consultant to help me develop my business plan because I needed someone who knew the Dutch market, and due to the knowledge I had acquired at Wittenborg I was able to evaluate what the consultant was doing."
Making the Most out of Wittenborg
According to Simony, the fact that she started her programme at 45 years old was really beneficial because her maturity and previous experiences enabled her to make the most out of her studies. She advises current students to seize the many opportunities offered by Wittenborg, highlighting that the school provides lots of assistance and that its lecturers and staff are very close to students.
"Although I didn't use Wittenborg's student housing facilities, they are a nice extra for people coming from abroad because it's really hard to find accommodation in the Netherlands. Moreover, the school organises plenty of events and activities that help students prepare for their careers, and it's always a good idea to ask questions to the lecturers about how to lay the groundwork for your professional life. Finally, it's crucial to acquire experience and understand the country where you are, and a great way to accomplish that and develop other valuable skills is to do one of the many internships offered by Wittenborg to its students," Simony concludes.
WUP 2/9/2023
by Ulisses Sawczuk
©WUAS Press