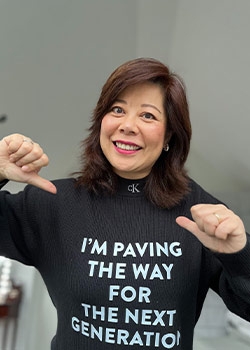 A message to tomorrow's leading businesswomen
For International Women's Day on 8 March, CEO of Wittenborg Maggie Feng participated in BrandedU's campaign to bring the voice of top women in business to the next generation. In collaboration with Calvin Klein, all participants were asked to wear a received jumper with the text "I'm paving the way for the next generation" written on it, post it on LinkedIn between 10:00 and 11:00 and write in the caption what advice they would give to their 24-year-old selves. In this way, messages will be passed on to a new generation of women in leadership positions in business. That morning, LinkedIn was flooded with moving and inspiring stories of top businesswomen looking back at their younger selves and writing what they had learned since then.
One such story that surfaced on LinkedIn on International Women's Day was from Maggie Feng. She looks back at her own previous life when she moved from Beijing, China to the Netherlands 24 years ago:

"I came to the Netherlands at the end of August 1999, as an international exchange student from Beijing, China. Instead of studying my 5th year of Engineering Management programme, I came to finish an Information Services Management bachelor's degree in 10 months. I had never heard of a database before I arrived, and soon after the course started, I had created a database. It was a steep learning curve," she writes. "Next month, in April 2023, I will mark the day that divides my life in exactly half: half of my life I lived in Beijing and half of my life is now in the central Netherlands."
As a former expat in an unfamiliar country, she reaches out to all the other expats who are struggling to settle down in a completely new environment: "My messages to expats like me: "Make yourself at home here and do your best. A new home can make you feel at home if your heart is open to it. Your success and happiness will follow. Happy International Women's Day to all expat women!"
Shaping your own path
BrandedU is an institute focused on personal branding, established to expedite the progress of women in business. It provides a conducive environment for women to enhance their professional growth, draw inspiration and network with women who share similar goals. This platform aims to aid women in advancing their careers, honing their leadership skills and shape their own paths in business. It was founded in 2014 by Nancy Poleon who used to work as marketing manager for BMG and wanted to amplify the voices of women in business, rather than changing them.
Recently, Feng joined a discussion panel at the Self-Made Summit discussing what women have to endure in the boardroom, where they often face a toxic male atmosphere. Although there is an increase of women in top positions in the Netherlands, the figures are still far from satisfactory. Among the top 250 companies in the Netherlands, only about 1 in 4 does not have a board composed exclusively of men.
This campaign hopes to bring about change and reach a new generation of women who feel empowered enough to get to the top. Different voices of top female entrepreneurs had similar messages to Feng's, who wrote: "We don't inherit the Earth from our ancestors, we borrow it from our children. By sharing my story I want to help women shape their own authentic path and become the business leaders the world needs."
WUP 08/04/2023
by Niels Otterman
©WUAS Press