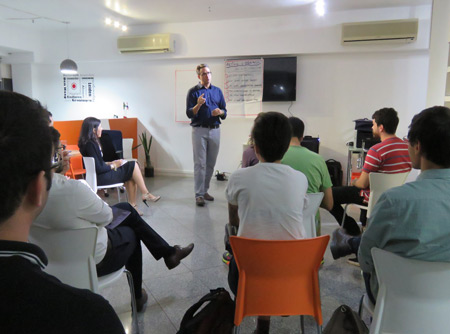 WUAS made its first trip to Brazil this month where the institute's international sales director, Tim Birdsall, talked to select groups about the quality and attractiveness of Dutch higher education for international students.
Birdsall first traveled to the capital, Brasília, where he made a stop at the Nuffic Neso Brazil office where he gave a talk on presentation skills and sales techniques.
Among students there particular interest in Dutch Master degree programmes and a general preference for doing degrees in Economics, Business and Management as well as Humanities and Social Sciences. Some of the attendees were alumni of the Dutch education system and were interested in furthering their studies in the Netherlands – either doing a Master degree or a PhD.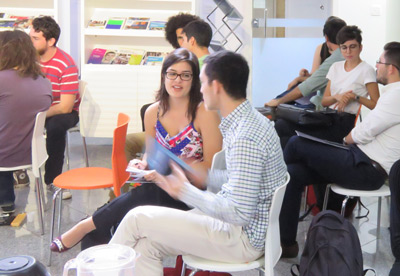 "I met some great students," Birdsall said afterwards. They are very engaged and already showing high levels of interpersonal skills. If these are the people in charge of Brasília's future, Brasília is in good hands!"
Neso Brazil called it an "incredible evening" with a good turnout. "Everyone found the workshop rather interesting and were engaged on the activities during the entire night."
Birdsall has been running presentation skills, sales and leadership workshops with multi-national environment for over 20 years. After the workshop he spoke about studying at Wittenborg which is one of the most international institutes of higher education in the Netherlands with almost 100 different nationalities studying at its locations in Apeldoorn and Amsterdam the past 3 years. Tim lives in Vienna Austria, where Wittenborg is opening its first international campus in August 2017.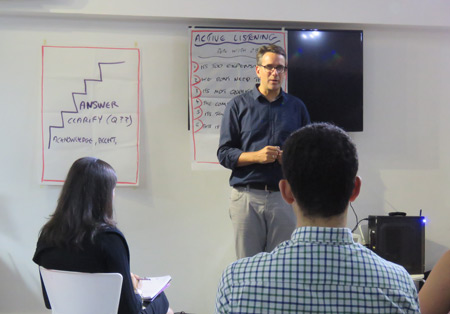 After his visit to Brasília he was off to São Paulo to meet with, among other activities, high school pupils at a local high school.
WUP 15/5/2017
by Anesca Smith
©WUAS Press