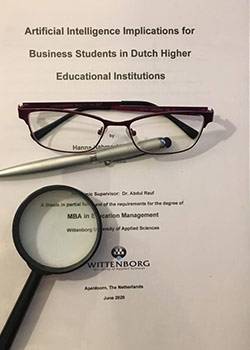 What's Next after Your Thesis?
Publishing their master's thesis is usually not in the minds of many master's students when they start their degree programmes, except for those who are interested in an academic career. Technically, nobody really bothers about the thesis once he/she steps out of the university, but little did students know that a published work enhances a graduate's professional credentials. Having a master's degree is common nowadays, but a published thesis will be your competitive edge over other potential job candidates. You may not be the cream of the crop of your cohort, but your publication will surely be the cherry on top of your master's degree.
Employers are always on the lookout for new employees who are not only hardworking but also have an inclination for academic knowledge and professional development. A published thesis shows that you have got that edge, because to get something published, especially in a credible journal, needs dedication, hard work and a certain level of expertise in a particular topic. Besides that, a published thesis will surely boost your eligibility for a PhD candidacy, should you intend to pursue one.
Another benefit that comes out of a published thesis is that all your hard work will not go to waste. Why keep the results of your efforts hidden when you can put them to good, even valuable use, by sharing with the research community and outside world? First of all, you carry out research on a topic that piqued your interest that many others might have the same interest in too. Your research may help to close some gaps in knowledge in the respective field and it makes other researchers aware that some research has already been done. Your research might even benefit various other members of the public, like article/book authors, business entities or government agencies.
Wittenborg sets to increase publication of master's theses
WUAS is not exactly shy of lecturers who are PhD holders and experienced researchers. One such example is Dr Gilbert Silvius, who is not only a lecturer and pioneer, but also an active researcher and book author. To date, Silvius has published over a hundred academic papers and several books, and one of his master students' theses has just been published. (You can find the article about this here). When asked whether it is important to sensitise Wittenborg students/graduates on the importance of presenting their research findings in journals, Silvius said that it is indeed important for Wittenborg because academic output is an important aspect of being a university of applied sciences. Indeed it is true, and for the new academic year, Wittenborg has put in place some initiatives to increase applied research in its curriculum, such as getting lecturers to actively identify excellent students who have the potential to be involved in research.
The key to getting your work published
It is common knowledge, though, that getting your work published is not a walk in the park either. And many students are also put off by this aspect, as it requires further hard work and nerves of steel after graduation. But according to Silvius, the key is to start from the very beginning. Silvius advised that students who wish to publish their theses should work with a supervisor who is regularly publishing on the topic they are interested in. They are the best persons to guide them and ensure that the thesis is of a publishable quality. They should agree on the topic both are interested in and inclined towards. Students need also to work closely with the supervisor in the development of their theses and be open to the supervisor's ideas, and able to integrate these ideas into their own study.
Knowledge is valuable only when shared
To sum up, getting your work published will reward you with a sense of satisfaction and self-actualisation. Commenting on this, Silvius agreed and said that for students, a publication, whether professional or academic, is stimulating and something to be proud of. That is true, even for experienced authors or researchers, as it helps to boost confidence and encourages more inspirational work. Even if you get critical reviews on your research, it is perfectly natural and it may pave the way for the betterment of your skills or for future research opportunities.
So think about it. Work hard on your thesis and share it with others. As Euan Semple asserts in his book 'Organizations Don't Tweet, People Do', tacit knowledge has no value but explicit knowledge has value because it is shared. He adds, "The more we all open up and share our thinking … the more we will all learn."
WUP 5/11/2020
by Hanna Abdelwahab
©WUAS Press