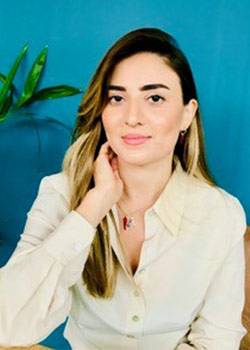 Publication of Thesis Milestone for Ismayilova
Although the ultimate objective of a student's postgraduate programme is to receive a master's degree or a PhD, getting the final thesis published in a journal significantly adds to the accomplishment. No easy feat for any student, for Wittenborg MBA graduate Aydan Ismayilova, getting her thesis published in a scholarly journal was a big milestone.
Ismayilova, from Baku, Azerbaijan, came to the Netherlands in 2018. After building a successful event management career in her home country, she realised that to further her professional aspirations and personal growth she needed international experience to go hand in hand with theoretical knowledge. This was what she found in Wittenborg's MBA – General Management programme. After graduating in January, she did some freelance consulting jobs before establishing her own company providing consultancy services in event project management.
Her thesis, titled 'Cradle-to-Cradle in Project Management: A Case Study', under the guidance of her Academic Supervisor, Dr Gilbert Silvius, was published in the International Journal of Circular Economy and Waste Management. The 'cradle-to-cradle' concept and sustainability have been hot topics in recent years, not only in the social and political arena, but also in academia. Ismayilova said that her thesis is focused on sustainable project management and how companies holding cradle-to-cradle certificates incorporate sustainability aspects into their project management activities. Ismayilova explained that choosing this topic was the natural thing to do, as it relates to her own project management field, besides being interesting and relevant to the current world situation.
Perfect Match
When asked what made her want to publish her work, Ismayilova said that she wants to share her findings with the academic world, and, furthermore, to have subject-matter experts giving feedback on her research is truly a great honour. She is especially grateful to her Academic Supervisor, Dr Gilbert Silvius, for his supervision in her final thesis and its publication. Silvius, a leading expert in the field of project management and information management, has published over 100 academic papers and several books. Commenting on this achievement, Silvius said that he is always aiming to publish the master's theses that he supervises, but finding the right candidate to work with him on his research agenda is not easy. With Ismayilova, who has the relevant background and a deep interest in the topic, it was a perfect match between supervisor and student. Silvius added that the ambition for publication was basically set in the beginning, as it was clear that Ismayilova had the level and the drive to perform a good study.
Some Wittenborg staff also commented on this achievement. Prof. Ad Kil, Director of the Doctoral College at Wittenborg, said he was surprised by this piece of good news, a wonderful thing for both student and supervisor. Prof. Ronald Tuninga, Wittenborg's Vice-President of Academic Affairs, also commented that he was "happy to see dissemination of knowledge from our master's students/graduates to a wider world." He added that this is not the first time at Wittenborg and we surely would like to see more of this type of knowledge dissemination contributing towards the knowledge society.
Encouragement to Other Master's Students
After spending almost six months doing research and writing the thesis, Aydan said that the experience she gained was not only limited to writing and researching, but also extended to self-discovery and self-awareness. Ismayilova believes that students need to be more informed about the possibilities and perks of their works being published, and the opportunities that it can bring to them should they decide to pursue an academic career. In response to this, Wittenborg's CEO, Maggie Feng, said that Wittenborg encourages its master's students who have an interest in research to work with their academic supervisors and find suitable channels to disseminate their good work, either through journals, interviews, blogs, or conference papers.
When asked whether she has any plans to do more research papers, Ismayilova commented: "Not at the moment, but I'm considering doing a PhD in the future". Ismayilova's published article can be found here.
WUP 22/10/2020
by Hanna Abdelwahab
©WUAS Press