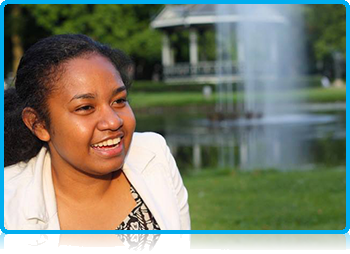 Talk about a cool job. When Wittenborg student, Rebecca Wambrauw, started looking for an internship she never imagined she would end up at MTV (now part of Viacom Media Networks). In an interview she dishes about what she did, who she met and where she's going next.
Hi Rebecca, where do you come from?
I come from Indonesia, originally West Papua.
How did you land such a cool internship?
I didn't expect that as well! Last January I spent a whole week applying for internships. Then I got some invitations for an interview and Viacom was one of them.
What was your role?
I worked in the HR department. I supported my supervisor to coordinate the learning and development platforms for employees. I was also the administrator and the main contact person for the Rosetta Stone language course within the VIMN Northern Europe cluster. Furthermore I supported the HR department with stuff like making contracts for employees, communicating with the managers and employees through email, working with the e-recruitment system and running the monthly employment report.
What did you enjoy most about the job?
The company is really flexible and fun. I could express my thoughts and be creative. They listened to my ideas and helped me to achieve it although I'm just an intern. The people are flexible and open-minded, there's almost no gap between chief executives, managers and subordinates. They treat each others equally and with respect.
What was the biggest challenge?
Most of the people who work there are young, so nobody really knows about everything in detail. Also there are no definite guidelines about how to do the work so you are expected to work independently and creatively. It was a challenge for me because often when there were problems i needed to find the solutions myself.
Did you meet any cool celebrities?
Ya, I met Spongebob, Dora, Jimmy neutron, Griffin Family, Southpark etc everyday. They are cool and funny - i love all of them!
When did you start and when did you finish?
I started on 3 February 2014 and finished June the 30th.
Did reality live up to your expectations?
Hmm... I explored and experienced more than what I have expected. It opened my mind about the industry and how it works behind the scenes. That was such an awesome experience.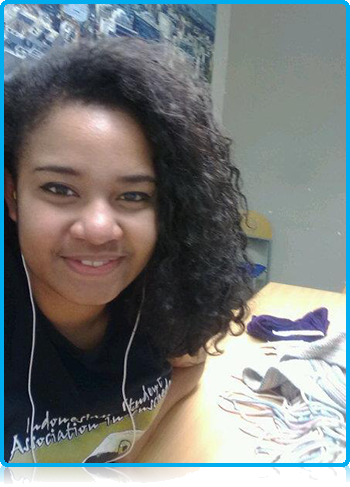 Where are your offices based and did you have to travel?
The headquarters are based in New York and London. I worked in the north of Amsterdam. I had to travel every day by train from Apeldoorn.
Which IBA programme do you follow at Wittenborg?
I followed Economics and Management.
Were you able to apply what you learned at Wittenborg on the job?
Yes, things like business ethics, managing a project, developing plans, presenting ideas, business communication, and some others.
What new skills has the internship taught you?
Some technical skills like e-learning, e-procurement, e-recruitment, Dutch language skills, negotiation, photoshop, networking and problem solving skills.
Why did you decide to study in the Netherlands?
My dream was to study abroad, either in Europe, the US or Australia. I chose the Netherlands because the tuition fee for international study is quite affordable compared to other countries. I also learned that after your studies you have the opportunity to build a career by applying for a zoekjaar-visa. Also, my grandmother lives here so I thought it is the perfect place for me to study.
Why did you choose Wittenborg?
You have the opportunity to speed up your studies at Wittenborg.
Do you have any tips for students wishing to live and study in Holland?
Learn how to ride a bike because it will make your life as a student so much easier, be prepared for the Dutch weather, many supermarkets and stores are closed on a Sunday so don't be shocked. You will meet many people from different countries, so use the opportunity to get to know them. It is very easy to travel (in Europe) so save some money to travel once in a while.
Which subjects did you love and which ones did you loath?
I love all cultural-related subjects, marketing, and projects. I hate all subjects related to finance and accounting.
What did you think of the study load?
I want to finish as soon possible so I have been taking some exams from different phases all at once, so the study load was quite high for me, but if students just follow the normal academic year the study load is average.
What do you like about life in Holland?
People are more open-minded and honest. Life is simple and equal.
Did you work part-time while studying? Would you recommend it?
Yes, I work part-time and recommend it - you will gain more skills and earn extra money plus you can add it to your CV.
What are your plans for after graduation?
I to work for an international company for some years to gain experience.
What long-term ambitions do you have for yourself?
I would like to have my own company in the art or music business.
WUP 7/7/2014
©WUAS Press
by Anesca Smith