We met up with Tim to ask what he had been doing in Vietnam.
According to Tim, Vietnam has been a very significant addition to Wittenborg's internationally diverse environment. Wittenborg has dealt regularly with Vietnam and built up relationships with local country representatives, which has influenced the large number of Vietnamese students coming to study here in the Netherlands.
At the 2017 International College Economics and Finance (ICEF) Fair in Ho Chi Minh City, Wittenborg secured over 20 applications. It was a clear decision to attend again this year, with Tim in the role of Sales Director and part-time explorer.
Tim the Sales Director
The Sales Director explained that this year's visit was "mainly just to reconnect with local country representatives and continue the process of what WUAS does well – building international relationships. I also spent my time conducting workshops and small training sessions on presentation skills for potential students, and even the country representatives themselves, which was very successful."
Tim's workshops focused on the important rules of body language and position when doing a PowerPoint or flipchart presentation. At Wittenborg, students will get the opportunity to hone these skills further during the 12 project week presentations, work placements and final graduation assignment presentations.
With around 25 meetings over the course of the week, plus a few spontaneous conversations during the training sessions, Tim thought he had deserved some time out.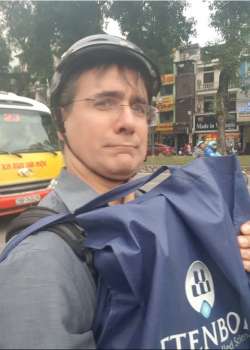 Tim the Intrepid Explorer
Over a 4-day period, Tim the explorer spent 2 days in hot and dusty Ho Chi Minh City, and then onwards to humid Hanoi for another couple of days. There he took the opportunity to explore the city on Grabs – the popular taxi mopeds.
According to Tim, "The food is exquisite, the green greener than Ireland, and the taxi rides much more fun than in Holland! Sightseeing in Hanoi is amazing!"
Having mixed business with pleasure, Tim returned to Ho Chi Minh City to end his tour. By his own admission, Tim had a great trip!
WUP 24/03/2018
by Rousanna Baird
©WUAS Press