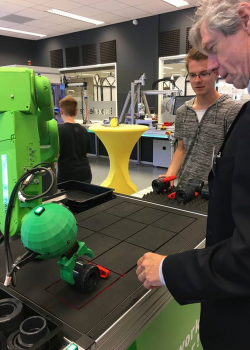 Project Gave Birth to New MBA in Smart Industry - First of its Kind in the Netherlands
In less than a month, Wittenborg will say goodbye to the Robotics Experience Centre Testing Ground Project (RECap) which it was part of for two and a half years – happy in the knowledge that it achieved all of its goals.
One of these goals was to set up a unique MBA in Smart Industry - the first of its kind in the Netherlands - which will be launched on Tuesday 4 December when Wittenborg students visit the Robotics Experience Centre in Almelo as part of the MBA Project Week.
When the RECap-project started in June 2016, it set out to advance robotics technology in the eastern part of the Netherlands, thereby strengthening the country's smart industry, which will eventually result in employment growth.
The project is a collaboration between ESPS – the manufacturer behind the Robotics Experience Centre and also a member of the WWINN Group – SMEs, Conway, as well as industrial-end users Vernay Europa B.V. and Wouter Witzel Eurovalve. WUAS was one of the knowledge partners along with the University of Twente.
Harry Maatjes, Quality Manager at Wittenborg, said that, besides the MBA, Wittenborg also delivered two papers to be presented later. One looks at the effects of introducing robotics on SMEs' human resource management. It was penned by Dr Rauf Abdul, the Head of Wittenborg's School of Business.
The second, by Wittenborg senior lecturer Dr Saskia Harkema, concentrated on the innovation space of SMEs in relation to the introduction of robots in production.
Harkema says in her paper: "New jobs will emerge which require a new labour force equipped to work in this new working environment where robots play such an important role.

"In an interview with a Dutch company which makes robots, the CEO clearly said that this is one of the biggest challenges ahead: there are not enough qualified people. This suggests that there is a high need to develop educational programs which are geared at jobs in these new types of work environment."
Abdul said in his paper: "With the MBA Smart Industry, future graduates will have a special understanding of the future challenges in robotics and automation, and will be able to link this special knowledge with new management skills required within the Smart Industry 4.0."
According to Abdul, unique subjects in the new MBA programme will ensure graduates have a broad management understanding of managing processes and people successfully in the field of smart industry. These subjects include Smart Industry Operations, Artificial Intelligence in Business and Cyber Security in Autonomous Business Operations, combined with classical MBA subjects, such as Marketing Management, Business Statistics and Finance Management, and linked with future-oriented lectures in Corporate Sustainability and International Management, already offered in Wittenborg's MBA programmes.
WUP 3/12/2018
by Anesca Smith
©WUAS Press