Wittenborg's Novel Post-Master's Programme Set to Take Off
Wittenborg University of Applied Sciences launched a novel post-master's programme, Post-Master's in Business and Social Research Practices, to complement its bachelor's and master's programmes, during a pivotal time in the education sector where online or hybrid learning is the norm due to the pandemic. The post-master's certificate and diploma programme will lead to a PhD/DBA programme, offered by one of Wittenborg's partner universities. The 2-year English-language programme is structured in 3 stages, with the respective awards:
Part A: 1-year Post-Master's certificate
Part B: 1-year Post-Master's diploma
Part C: 2-3 years PhD/DBA study (at a Wittenborg Partner University)
The programme is set to start in June 2021. Depending on the focus of the individual student, who will be able to prepare for two types of doctoral research programmes at a Wittenborg partner university - a Doctor of Philosophy (PhD) or a Doctor of Business Administration (DBA).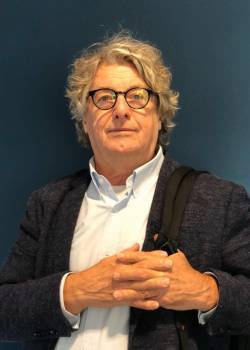 Programme Kick-Off
The programme kick-off event was held on Tuesday, 18th May, at Wittenborg's Spoorstraat campus in Apeldoorn. The event was hosted by Prof. Ad Kil, the brains behind the whole programme, and graced by Wittenborg CEO Maggie Feng's presence. In her inaugural speech, Feng welcomed the students and supervisors and praised them for taking the big step to embark on this long journey with its many and unforeseeable future challenges. She reminded them that this journey requires commitment and dedication, but assured them that it is also Wittenborg's resolve to provide all the support necessary to ensure that they succeed and reach their goals. She wished all students and supervisors all the best in their pursuit for knowledge and encouraged them to challenge each other and enjoy the ride.
Prof. Ad Kil, who has years of extensive academic and innovative experience, is Wittenborg's Director of Doctoral College. Commenting on the newly developed programme, Kil said that he is very excited about the upcoming great adventure and is sure that it will triumph as we have good hands on deck in terms of supervisors, tutors and administrative staff.
A Novel Programme
The programme is designed for students seeking to advance their research skills and those wishing to pursue a PhD/DBA programme at a partner university. Using an internationally acclaimed faculty, the programme guarantees a rigorous, research-based delivery approach that explores the latest research from a variety of disciplines. Students will gain crucial skills in research ethics and project design, and field-specific expertise based on the latest developments to further advance their knowledge and writing skills. Researchers with highly developed skills are vital to our globally connected social, cultural and economic future.
A doctoral study is a rewarding but very challenging, 3 to 5-year-journey and many candidates drop out. The novelty of Wittenborg's programme is that it allows for a triple-exit modality. It means that students who do not wish or are unable to continue to a PhD/DBA study due to personal reasons can exit at the end of the first or second year and will be awarded either a Post-Graduate Certificate or Post-Graduate Diploma respectively. Students who wish to progress to a PhD/DBA study will proceed to a partner institute of their choice. The list of partner institutes includes universities/business schools from the UK, the Netherlands, Australia, Russia, China, Spain, Canada, Luxemburg, Croatia and France. It also encompasses reputable universities like Kingston University London, University of Brighton, Leiden University and Shanghai University of Sport.
Scholarly Active Faculty
Among the students who have already enrolled for the programme is Myra Qiu, Wittenborg's Manager for Academic Partnerships. Qiu, who obtained her MSc in Event Management and PGCert in Learning and Teaching in Higher Education, decided to enrol in the programme because she finds it interesting. She commented, "The Post-Master's programme is well-designed with taught modules in Business and Social Research Practices, which can enhance our research skills and lead us to the doctorate selection and further stage. I believe the faculty of professional lecturers and tutors, the innovative pedagogical methods of the programme and the encouraging study environment will keep me motivated throughout this exciting adventure."
The faculty involved in the programme is made up of scholarly active academics, including Prof. Ad Kil, Prof. Ron Tuninga, Dr Rauf Abdul, Prof. Leo Dana, Dr Gilbert Silvius and Dr Muhammad Ashfaq.
WUP 24/5/2021
by Hanna Abdelwahab
©WUAS Press