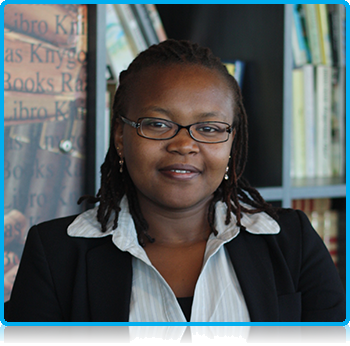 a Hospitality Management Degree? - Wittenborg's Anesca Smith interviews Esther Gitonga, lecturer at WUAS in the field of Hospitality & Tourism, and part of the European Hospitality Management programme team. The "EuroBA" is a unique three year Bachelor (Hons) in International Hospitality Management in which students study 3 years at three different institutes in 3 different countries to gain a double degree.
WUAS prides itself on its commitment to diversity and the principle of inclusion - both among staff and students. Hence when a number of new lecturers started teaching at the beginning of the current academic year it was to be expected they would be from an interesting array of backgrounds. In the coming weeks we will profile some of our lecturers and their experiences so far at Wittenborg.
Esther Gitonga, from Kenya, teaches a number of hospitality modules at Wittenborg. She holds a master's degree in leisure tourism and environment management from Wageningen University and is currently preparing for her PhD in exploring climate change adaptation options for marginalized tourism- dependent communities in Africa.
How would you describe your first few months teaching at Wittenborg? My first months went smoothly. The management and non-teaching staff at Wittenborg were very helpful, friendly and showed genuine concern. They were eager to show me how the system works and gave me a number of tips that I still use to date. My students were equally encouraging. My hospitality specialization class was and still is a small group of young students, who are dedicated and eager to learn. I also enjoy the work environment: the professionalism of my colleagues and the international character of the work environment and a touch of Dutch work ethics.
What can be improved?
Mmmm .. it would be nice to have a flip chart and a power-point laser pointer ready in each classroom! (she adds with a wink to management).
You have been an international student yourself, would you recommend it? Yes of course. It goes beyond just sitting in an international class. It is about traveling, meeting new people with different ways of thinking, it's about sharing your views and opening your mind to other people's views, expanding your horizons and seeing beyond your local parameters. The human interaction aspect is invaluable. It really opens your mind. So, do not just go from class to home to class to home. Create time to really meet and interact with people.
Do you like teaching international students?
I really like teaching international students. The learning experience is enriched by the presence of international cultures, views and styles of learning. It calls for a lot of creativity on my side to blend these different personalities and create a harmonious learning experience for all the students.
What was it like growing up in Kenya?
You would need to read my future novel to understand that. In short, I remember my childhood with nostalgia. Growing up in Kenya was fun and adventurous. I clearly remember playing in the fields every afternoon after school, walking to school four times a day, the all year round summer. It's a child's paradise.
What inspires you and why?
Every time I am doing something, I look at the bigger picture. We are all making this world a better place in our own little sphere of influence. I see my actions as a part of a bigger system. My inspiration comes from the women who raised me, my dear mother and my late grandmother. Their hard work, courage and perseverance have served as a source of motivation for me for years. I am humbled by the knowledge that there are millions of women like my mum and grandma, women who sacrifice everything to truly raise great people, leaders and shapers of the world and yet their contribution to the world goes unnoticed. These unsung heroines keep my spirit going. Every time I feel like "stopping" all I need to do is take a quiet moment and reflect on this and the bigger picture.
Esther Gitonga teaches Hospitality Food Services, Hotel Management, Hospitality Operations, and Strategic Management in Hospitality
WUP 10/4/2014
©WUAS Press