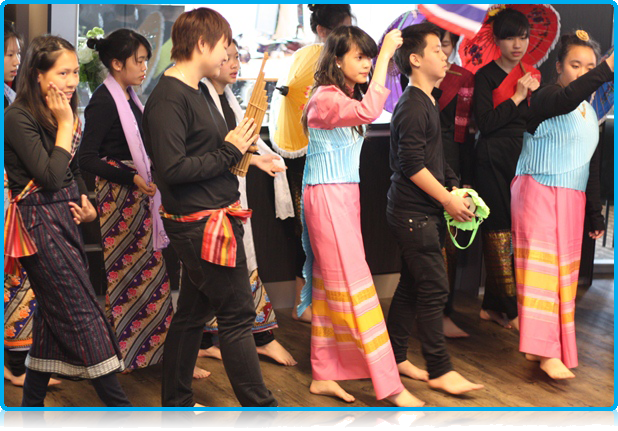 The group, consisting of five boys and nineteen girls aged between twelve and sixteen, were accompanied by two leaders from KAS Education Centre, Thailand and have spent 4 days visiting Apeldoorn, Epe and Amsterdam.
During their stay in Apeldoorn, they spent a day in classes with Wittenborg Preparation Year students following IELTS English classes, and last night entertained their hosts with a splendid show of traditional Thai dancing. The group was welcomed on Wednesday to Apeldoorn by Alderman Johan Kruithof, from the local Apeldoorn government (Gemeente Apeldoorn) and were given a tour of the City Hall complex.
On Thursday the students spent the morning at a secondary school in Epe, the RSG N.O.-Veluwe, following classes together with their Dutch counterparts.
The following article and file was published in the regional newspaper De Stentor: http://www.destentor.nl/regio/epevaassen/10934635/Thaise-scholieren-gek-op-stroopwafels-.ece
The students have been in England for the past two weeks, living with British host families in the small town of Seaford, on the Sussex coast, attending English lessons every day and following a programme of activities and visits to local towns, Windsor Castle and London.
The Thai school students come from the following schools in Bangkok:
Saint Joseph Convent School Bangkok
Mater Dei School Thailand
Chulaongkorn University Demonstration Secondary School Bangkok
Srinakarinwirot University School
Kasetsart University Laboratory School International Program
Chitralada School Thailand
WUP 27/04/2012