Wittenborg University Students on a Project Week in Shanghai -Update: Day 2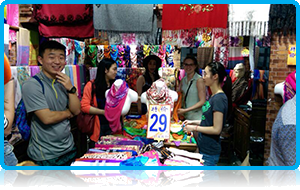 Hello everybody!
Many greetings from Shanghai!
Sit back and enjoy the story of the second 'real' day of our trip! Our day started after 3 students from the Shanghai Business School came to the hotel to pick us up. Then we walked all together to the train station, which is near to our hotel, where we took the train towards Tianzifang. Tianzifang is a big market which consists out of tiny narrow streets with small shops. It was a wonderful experience, the fact that this place has not yet been influenced by Western culture made it a real encounter with the traditional Chinese culture.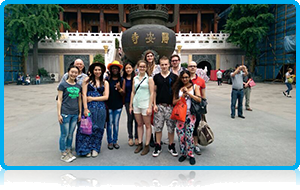 After shopping at the market we went to have some delicious lunch at one of the restaurants at the food court. It was difficult to decide where to eat due to the wide range of restaurants. After lunch we went to the Jingan Temple .The impressive and fun thing was that the Jingan temple was exactly above the metro station. The temple is beautiful and the golden roofs are made of real gold. There were a lot of different statues of Gods and each of them had a different meaning and power. [Picture 2]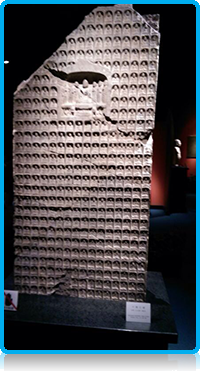 After visiting the temple we went to Shanghai museum which was really nice. It showed a lot of interesting things about China like clothing and monetary means of different time periods.

Our journey continued to The Bund. The Shanghai city center was just breathtaking. It was big, crowded and it was so surreal to walk through a city which is so well-known all over the world! We were really amazed by the city and enjoyed every second of our walk through the Shanghai city towards The Bund. The Bund was just incredible. We were just astonished by the view of the beautiful buildings and it really looked like a postcard. For us, the Bund was the main attraction, but for the Chinese people, we were the sightseeing of the day!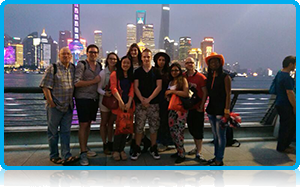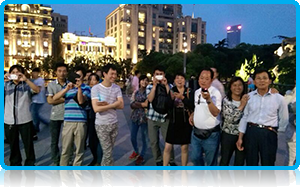 The idea was to go eating something in the shopping mall near by our hotel. This was also quite an experience for us, because we went eating in a restaurant which served food in hot pots. We each had to choose our own raw food and put the food in the hotpot which was filled with a delicious saus. By doing this the food was getting cooked and we were able to eat it immediately. It was truly delicious!!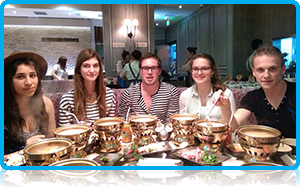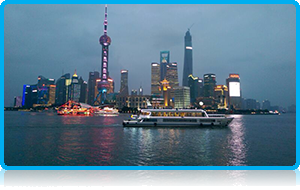 WUP 3/6/2014