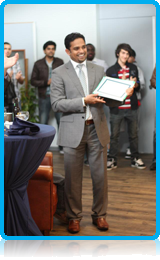 At a ceremony in Apeldoorn last week, Wittenborg said goodbye to one of its most suave and charismatic colleagues, Education Manager Lasantha de Silva. Many current and past members of staff were joined by Wittenborg students to raise a glass in farewell to Lasantha, who has made the decision to remain in his native Sri Lanka, after his wedding there, which takes place in August. "It was a truly difficult decision for me, but in the end I want to be with my family" said Lasantha during a heartwarming reception speech.
The reception was concluded by a speech given by director Peter Birdsall, in which he praised Lasantha's achievements at Wittenborg, and presented him with an Appointment Certificate as an Honorary Lecturer in Finance, Accounting and International Management. Lasantha was also presented with a photo album of memories of his time in Deventer and Apeldoorn.
Lasantha, originally from the banking sector, completed a Final Year IBA degree in Financial Services Management (2007-2008) and started work at Wittenborg at the end of 2008, under the Knowledge Migrant Scheme for Graduates in the Netherlands. His first duties were working in the financial department, and teaching Accounting and Finance classes to first year students. During this time Lasantha worked closely with Education Manager Tanya Dimitrova (now at InHolland University and an external member of the Wittenborg Examination Board) and in n 2009 he took over the new position of Education Operations Manager, created as part of the changes implemented after the move to Apeldoorn.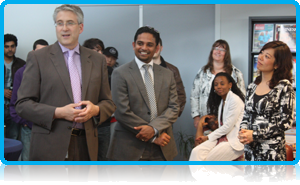 Many lecturers and non-teaching staff members at Wittenborg are so-called "knowledge migrants", falling under a scheme of the Dutch government that allows higher education (non-EU) graduates to stay in the Netherlands and work after their studies, providing they can find employment that pays salaries above 28 thousand euro a year. Even then it's not always easy for organizations and companies to find the right staff, and for graduates to find the right work within the one year they have at the end of their studies. Latest facts and figures are starting to show a trend of graduates working for a few years, however moving off either back home or to a new country before 5 years are completed.
Birdsall finished his speech with the traditional quote from the Eagles hit Hotel California – "You can check-out any time you like, But you can never leave!" (implying that many students and staff keep close contact with the institute after they leave). Birdsall he joked, "Wittenborg will miss your input greatly, and I especially will miss your example to students and staff when it comes to dress code – you having always been the best dressed lecturer we have!"
WUP 30/6/2012
©WUAS Press