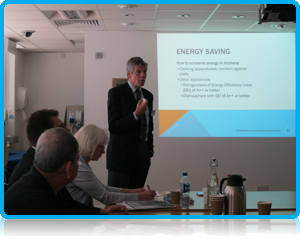 On July 12, 2012, the School of Service Management (SSM) of the University of Brighton (UK) organised a research forum. Collegues from partner universities were asked to submit papers related to the area of Hospitality Research, and WUAS submitted a paper based on the activities of one of its partner companies, that specializes in the field of sustainable energy solutions. The forum took place at SSM's Eastbourne Campus.
Chairman of the forum was Ioannis S. Pantelidis PhD, MSc, HMDip, FIH, FHEA (Senior Lecturer in Hospitality and Culinary Arts).
After an introductory speech by Mrs. Ufi Ibrahim, former Chief Operations Officer at WTTC, now Chief Executive of the British Hospitality Association, indicating the growing importance of Hospitality and Tourism for jobs and national income (GDP), speakers from the University of Brighton and its partner institutes in France and The Netherlands, presented their papers.
Among the speakers was Wittenborg's Trustee and Financial Manager Ing. Harry Maatjes, who presented a paper "Optimization of energy used in hotel and restaurant kitchens". In cooperation with Wittenborg, Harry Maatjes' company Rymotec developed a system, in which the warm off gases from large kitchens flow through a heat exchanger, thus warming up an air flow into the building. This warmed up air flow diminishes the amount of air to be heated up if no heat exchange would take place.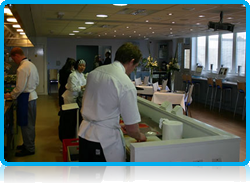 The unique feature in this system is the absence of fouling of the heat exchanger, thanks to a highly sophisticated fluid, embedding oily substances from off gases and eliminating spicy odors. Being at the development stage, only examples of theoretical applications could be given. Meanwhile the first systems have been sold, indicating a sound period of return on investment.
SSM, the University of Brighton's School of Service Management offers courses in Hospitality, Event Management, Tourism and Travel Management. In cooperation with the University of Brighton, WUAS also offers Master degrees in Management in International Tourism Management and International Event Management. A number of the University of Brighton lecturers, who will co-teach at WUAS, were also present at the forum and presented their papers.
WUP 18/07/2012
©WUAS Press