Wittenborg University Lecturer Dr Saskia Harkema Now Also Teaching Company Executives in Paris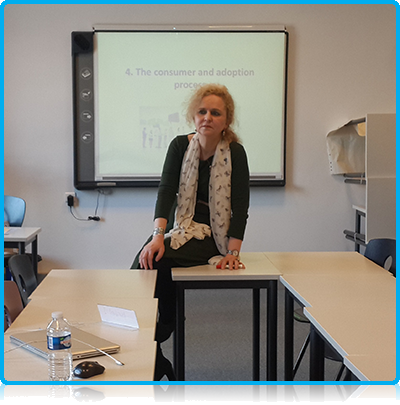 Dr Saskia Harkema, senior lecturer and researcher at WUAS, now also teaches high-flying executives at the International School of Management in Paris, France. She says having taught at different European institutes not only reinforced how professional Wittenborg is, but also showed her that the educational market is changing and being part of the so-called Ivy League club is no longer the main consideration for students when choosing a university.
Is Paris as an exciting place to teach as it sounds?
Yes, Paris is certainly interesting and exciting. The university where I taught is near the Eiffel Tower and every morning I had the chance to see it on my walk to the campus. I did not have much free time because I taught from 9am to 6pm, but I think Paris is also a great place for students - which is why they are able to attract such an interesting and diverse group of people.
Which modules do you teach at the International School of Management?
At present I am teaching a module called "New Product Innovation: Managing the Innovation Process" for Doctor of Business Administration (DBA) and PhD students from all over the world. The modules take place during intensive 3-day lectures since people fly in from everywhere because they hold executive positions in companies. In addition I have developed an e-learning module "Managing the innovation process". That means, over a period of 3 months and through Skype sessions, I tutor students individually to go through the chapters of the books they have to use, carry out the assignments they have been given and discuss different topics. At present my students are from Mexico, Finland, Ethiopia and Canada.
How many students do you have and what is the profile of a typical student at the school?
I had 14 students from 10 countries who are executives in different industries and sectors. To give some examples: I had an international brand manager from the International Hotel Group which encompasses 4300 hotels worldwide, a Frenchman who had been a fighter pilot and now holds an important position in the field of Intelligence to counter terrorism in France as well as an American who has converted his farm into a training centre for managers. It is this diversity which makes it challenging and so much fun to work in!
Will it be an ongoing engagement?
I have signed up for one year, since my priority lies with Wittenborg and I would not want it to interfere with my obligations here. I foresee that working in these totally different environments can only be an advantage – for me and for Wittenborg.
Why were you interested in the job?
What really appealed to me is that the school solely targets executives and they have truly international groups. It has locations in South-Africa, Shanghai, New York, Brazil and France, so they cater for an international audience and approach. It also allows me to gain insight in the organizations the participants work for. In the group I recently taught there were people from the Hospitality Industry, Education, Lifestyle Industry, Banking, Merchandising, Consultancy and Business Intelligence.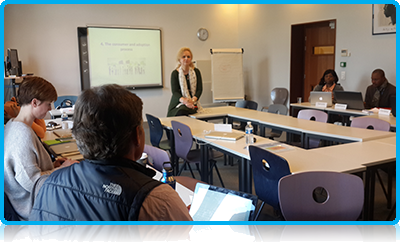 What are the rewards of teaching international students?
The rewards are so big when you teach an international group because the dynamics are different than when you teach a homogeneous group. They learn from each other and I also learn from them. I was a bit worried this time because I had 5 Americans in my group and feared this would intimidate the rest, but nothing of the kind happened. There was genuine willingness to hear the different stories and share experiences.
What were the challenges in this new role? You mentioned that the classes are very intensive. Can you elaborate?
It was a real challenge to teach a group of Executives who have high expectations and standards in relation to the level of professionalism and know-how they expect from a lecturer. My approach in teaching is always that I do not merely see myself as an instructor, but try to establish a relation with the students. Learning does not only take place via the brain, but also via the heart. In connecting at these two levels, I believe people will be more receptive and their as well as my learning experience will be optimal.
Do you teach at any other schools?
Incidentally I work for NCOI which also focusses solely on adult education. And I have set up a Foundation – Faces of Change – which works with and for refugees worldwide. We are a start-up but have recently developed a program to foster female Entrepreneurship in Jordan. It would be great if in future I could involve our students in projects we are starting to set up.
What can you say about the state of higher education in mainland Europe quality-wise having taught at a few universities here? How do you think it compares with the Ivy League likes of Harvard, Oxford and Cambridge?
Well, I have to say that it has made me see how professional Wittenborg is – and I really mean that. I think that it has what people search for in an educational surrounding: commitment and professionalism in combination with quality. Especially when you are not one of the big players. What it has also shown me is that the global landscape is changing rapidly. Even in emerging countries like Nigeria, Libya and Saudi-Arabia the incentive to raise standards and improve quality in education, are high. It was interesting to see that the American I mentioned earlier had all his kids going to Stanford, Harvard and Berkeley, but he chose to do his PhD at an international institute like ISM. So I think the educational market is innovating considerably and being part of the so-called Ivy League is not the sole consideration for students anymore.
What is your favorite thing to do in Paris?
I love the food in Paris! So every evening I invited myself to a nice meal, with a good glass of French wine!
WUP 8/3/2015
©WUAS Press
by Anesca Smith