...students & staff talk about Nelson Mandela's legacy while icon fights for his life in hospital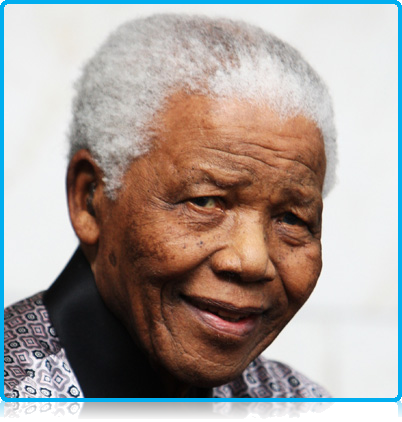 One of the greatest men of the 20th century, Nelson Mandela, is fighting for his life in hospital.
Mandela, whose 95th birthday is on 18 July, became a world icon after spending 27 years in jail for fighting racial oppression in South Africa.
The Netherlands was one of the leading European countries campaigning against apartheid in the 1950's, 60's and 70's. In 1965 the country's government even offered 45 000 euros to an organization aiding political prisoners like Mandela.
Students and staff at WUAS have this week spoken from the heart about what Mandela meant to them and the legacy he will leave behind.
"It is difficult to capture in words what Nelson Mandela means to me," says Adeyemi Banjo, lecturer in Communication, Informatics, Entrepreneurship and Marketing.
"He has been a role model in so many ways, but particularly in terms of what one can achieve through commitment, integrity and perseverance. He has shown that it is possible to reach the top if you are focused, and hold onto what you believe. One key thing I have taken away from watching him is that, the successful way may not seem like the shortest way, but in the end, is the right way, the best way and the only way.
"He has been able to transcend race and has shown, particularly to us who come from an African background that it doesn't really matter where you come from or what your background is, your vision and how you achieve it is what matters.
"To me he represents the new Africa which we as African are still trying to achieve. What he has done shows it is possible, achievable and inevitable.
"I think his greatest legacy is that through his actions he - with his colleagues
- was able to transform South Africa. By doing this he has given all oppressed people worldwide a sense of hope that with time and perseverance Uhuru (freedom) will be achieved."
WUAS's director, Peter Birdsall, says there was a lot of unrest and disbelief about Mandela's imprisonment when he was growing up in the UK in the 1980's.
"Mrs Thatcher's policies did not affect how people felt about him. When he became president it gave a lot of people hope. It gave hope to everyone who believes in equality
"Barack Obama's presidency in the US was such an anti-climax. He showed that just because you are black, does not mean you will be a great president.
"Mandela on the other hand was everything people hoped he would be. He too could have been a disappointment, but he was not. I mean, he came out of prison with no experience of being in government. Nobody knew how it would turn out..."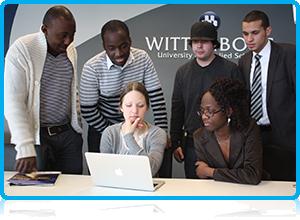 For final year student, Noma Mabandla from Zimbabwe, Mandela is a "true leader who used his influence to heal a nation and move it towards prosperity as one".
Maike Nuyken, a German 2nd phase student, says: "Nelson Mandela to me represents the strength not to give up but to stand up for what you believe in. He represents freedom, peace and hope. I think he should be a huge role model for politicians, managers and all other people alike because of his achievements."
Ishebo Twish Karl, a student from Uganda specializing in Logistics and Management, says: "Many would like to follow in his footsteps - including me! Yet, only a few will fit in his shoes. It is very unfortunate that he is facing the incurable curse of old age. We shall surely and always remember him to be the solution to many historical problems."
Marius Zürcher, a student from Switzerland, says Mandela showed that "at some point good will always triumph over bad".
For Serge Gwabene, also a 2nd phase student from the Democratic Republic of the Congo (DRC), Mandela represents "freedom and the power of forgiveness".
"He is an icon who has tried to make a difference in this world."
**Nelson Mandela became South Africa's first democratically elected president in 1994 and is known the world over as a symbol for freedom and equality. He has received over 250 awards, including the Nobel Peace Prize in 1993. W
hile the world has been holding its breath over his illness, South Africans have been holding vigil for "the father of the nation" outside the Heart Hospital in Pretoria where he has been treated.
Unable to let go of their hero, passers-by have posted messages outside on the hospital walls, little children have laid flowers on the pavement, street sweepers have wept while quietly performing their duties and journalists have been camping at the hospital gates day and night.
Mandela contracted tuberculosis on Robben Island where he spent a great deal of his imprisonment. It is believed the disease permanently damaged his lungs, leading to several infections he has suffered since retiring from public life in 2004.
WUP 4/7/2013
by Anesca Smith
©WUAS Press