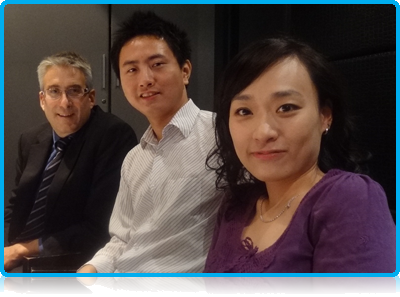 During their recent visit to Beijing and Shanghai last week, WUAS directors Peter Birdsall and Maggie Feng took time out to meet up with a couple of alumni students in Shanghai. Block Luo and Yolanda Huang were amongst the second group of Chinese students to arrive for study at Wittenborg in Deventer in 2004. Both graduated and returned to China in 2008 and successfully found employment.
Block has worked at three international companies as a sales manager, since returning to China, and now works for the german leasing company Deutsche Leasing based in Bad Homburg v. d. Höhe. "My Wittenborg degree definitely helped me get my jobs; my international degree puts me one step ahead of my competitors. I also think that because the Wittenborg name is expanding and becoming more well known, especially being placed on the Chinese list of recognized institutes, and the German FIBAA accreditation, that this will help me in the future"
Yolanda also works for a German company, Benteler Automotive Shanghai Co.,Ltd as a business development manager agrees with Block. "Our experience in the Netherlands and our degree from Wittenborg gives us an international perspective that others may not have". When asked why she doesn't' work for a Dutch company, she laughs "There aren't many Dutch companies around, compared to German companies." she adds "The reputation and quality of German products and companies is highly valued here in China".
Both Block and Elena are married and have children, and say that they are "extremely satisfied with life"! Elena adds "the MSc at Wittenborg seems interesting though, especially the 3000 euro discount for Wittenborg students! Maybe I'll take a year off and come back to study", she winks!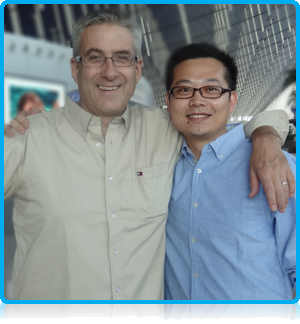 On returning to Pudong Airport for the flight back, Peter Birdsall is driven to the airport by former student Michael Wang. Michael started his studies in 2003 and graduated in 2005, after having completed a research project for BTC and Wittenborg IT partner Dataground, looking into the financial feasibility for SME's to embrace Open Source Software. Michael worked in Wittenbog's IT department during his studies, especially looking after the internet in student housing, which in those days was at a rudimentary service level. The car journey gave the two ex student / director, now friends, the time to catch up, on European and Chinese economic statuses, his business, Wittenborg's development, and their passion for Formula 1, something they have enjoyed together in past at the Shanghai Circuit.
Since returning to China, Michael has worked for HSBC Bank and run his own company in IT security hardware. He has also helped his wife in her own company, which trades in raw materials (steel). For the past three years Michael has been a trader, trading in futures on the New York and Shanghai Stock Exchanges, which he says can be very rewarding, but tiring and difficult with a young family. He looks back at his time at Wittenborg with great fondness, and keeps good a social contact with Wittenborg through its directors Peter and Maggie, who he sees regularly.
Maggie Feng commented "We contacted more than 10 of our alumni in Beijing and Shanghai areas, and so many o them were so busy that I was pleased we could cath up with three of them. In the coming year we would like to see as many of our former students as is possible, as keeping god ties with our alumni, not only in China, but around the world, is extremely important for our development at Wittenborg."
WUP 22/10/12
© WUAS Press