"Blood, sweat and tears..." This is how one of Wittenborg's latest graduates, Maaike Wiersma, says she survived some of the more challenging modules on her way to successfully completing her bachelor degree in International Business Administration recently.
Maaike, a Dutch native, is one of the proud graduates who attended this year's Winter Graduation Ceremony which will took place at a prestigious event on Friday, 7 February. In a short interview, they talk about their time at WUAS and their plans for the future.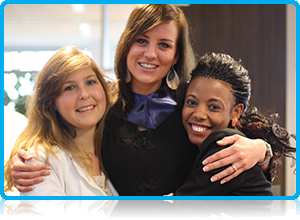 Maaike Wiersma: One of the most important things she learned at Wittenborg was to study in a multicultural environment where people have norms and values that are different from her own, says Maaike. She found all the modules taught by British businessman Bob Dyson highly interesting. "The way he explains things are so clear that I can visualize it for myself in practice." However she struggled with Cost Accounting and Management as well as some of the language modules." She is keen to gain experience in the labour market and has no immediate plans to continue her studies. A career in sales or account management is what she envisions for herself.
Sutthasinee Sarakham: She will return home to Thailand with fond memories of the Netherlands and her Study in Holland, says Sutthasinee (nickname "Bew"). "Things like learning to ride a bike in traffic - I haven't been on a bike since I was 10 years old - and getting used to the public transport system. Even buying groceries was very different at first, but it's wonderful how quickly one's surroundings become familiar to you. Before you know it, you're confidently buying your cheese from the kaasboer and much rather take your bike somewhere than walk!" Her favorite module was Marketing Mix and least favorite Cost Accounting and Management. "After two times "retake" I became very discouraged. I did not enjoy the class and all the theories and formulas." She plans to find work in Thailand and says she was "lucky" to have Wittenborg's Nigerian-born lecturer Adeyemi Banjo as her tutor as he was able to give interesting perspectives and helpful suggestions for her research.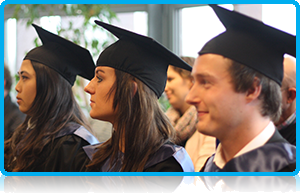 Mark Ebbinge: According to Mark the most important thing he learned at Wittenborg was presenting. His favorite subjects were the financial modules and his favorite lecturers were accountancy guru Lasantha Da Silva and Bob Dyson. "They could really teach a subject and were very honest and fair in class." In contrast, his least favorite module was Small European Business Environment. Mark is looking to secure a job soon and is also currently looking forward to Master of Business Administration studies at the University of Twente, in his home town of Enschede – which is situated on the German border. Mark did his internship at Vrielink Makelaars, a Real Estate Management Agency, which gave him good insight into the real estate broker profession.
Anesca Smith: To make your Study in Holland and experience in the Netherlands a pleasant period, you need to open yourself to forming new friendships and absorbing a new cultural experience, says Anesca who is from South Africa. She currently works part-time as web content writer for Wittenborg and will stay in the Netherlands. In the meantime she got involved in African organizations that are based here. "Though I am in Europe I am keen to make a contribution to the development of my own continent." She enjoyed Research Methodology and says writing a Business Plan was "fun". She found the lecturers and students inspiring. "It is not easy adapting to a new country and I admire all our international students."
Muhammad Ramzan: He found Apeldoorn a good city, says Muhammad who is from Pakistan. He will continue his studies in Germany where he is also working part-time and says he did not find any of the modules at Wittenborg particularly difficult. "Research Methodology was my favorite course as I got more information related to my topic. My lecturer and supervisor, Mr Rauf (Abdul) was inspiring to me as he looked more prepared and motivated than some of the other teachers, but of cause Rauf is also from Pakistan, so we got on well, he added with a smile."
WUP 7/2/2014
©WUAS Press